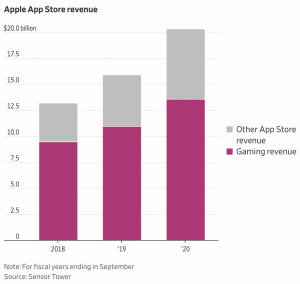 Apple doesn't make hot videogames such as "Fortnite," or consoles such as the Xbox. But with little fanfare, Chief Executive Tim Cook has turned the maker of the iPhone into one of the world's largest videogame companies.
The key is the App Store, its digital marketplace, where the company sells and distributes thousands of games by other companies and developers, from Epic Games Inc.'s "Fortnite" to Tencent's "Honor of Kings" — and takes a 30% cut of sales. That explains a lot about the tech giant's current battles with rivals.
Apple raked in more profits from games than Xbox maker Microsoft, gaming giants Nintendo Co. and Activision and PlayStation maker Sony Corp. — combined— in its fiscal year 2019, according to a Wall Street Journal analysis of figures released as part of the company's recent antitrust trial.
Apple's operating profits from games that year totaled $8.5 billion, according to the Journal analysis, exceeding the other four companies' combined gaming operating incomes in the same period. The tech giant said operating margins discussed during the trial were flawed and as a result are too high.
My take: Note that the hook for the "hottest player" headline is a 2019 estimate that Apple disputes. Overall, though, a well-researched article.