U.S. stock futures hovered close to record highs, but a tumble in oil prices and a brief slump in gold and silver prices signaled investor unease about the strength of the economic recovery...
Global oil benchmark Brent crude dropped 3.3% to $68.35, putting it on track for its lowest settlement price since mid-July. An outbreak of Covid-19 in China renewed concerns about another hit to demand from the virus, traders said.
Gold and silver briefly tumbled early Monday before recovering much of the lost ground. Analysts attributed the fall to rising bond yields and an appreciation in the dollar in the wake of Friday's strong U.S. jobs report...
Low liquidity during the summer months is likely exacerbating the moves, said Sebastien Galy, a macro strategist at Nordea Asset Management. "You get people and organizations systematically exploiting low liquidity to push their positions, it happens from time to time. Silver is even less liquid than gold."
My take: For what it's worth, Yahoo Finance indicates that Apple is in a pattern called an "inside bar" or "inside day." From Investopedia: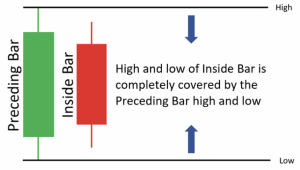 An inside day is a two-day price pattern that occurs when a second day has a range that is completely inside the first day's price range. The high of the second day is lower than the first, and the low of the second is higher than the first.
Yahoo calls this a "bearish" pattern, but according to the Daily FX:
The inside bar candle pattern is NOT telling traders that the market is bidding price higher or lower but rather that the market is waiting before making the next big move in the asset. This means potential opportunities for traders.