"We are adding Apple shares to the Analyst Focus List as a Growth idea as [favorable] data points… continue to trickle in."
From a note to clients by analyst Samik Chatterjee that landed on my desktop today:
Increase to iPhone 12 builds corroborates our recently highlighted expectation for upside to the current cycle; low expectations for iPhone 13 creates another leg to the upside opportunity. Apple supply chain analyst, William Yang, is increasing his iPhone build forecast for CY21 by 9 mn to factor in resilient demand for current/legacy iPhones, even as he maintains his build forecast for the upcoming iPhone 13. We are increasing our iPhone volumes expectations modestly in conjunction with the raise to the build estimates, but more importantly, see a path to upside for the shares medium- term both on account of upside to iPhone 12 estimates as well as low investor expectations heading into the iPhone 13 launch. The combination of upside from iPhone 13, stemming from a better upgrade rate to 5G devices and a larger installed base, as well as upside from the launch of iPhone SE3 in calendar 2022 could set Apple up for an earnings upgrade cycle over the next 6-12 months.
Limited supply related headwinds to iPhone. As indicated in our recent report based on Wave 7 survey, relative to iPhone availability, there appears to be limited disruption on account of supply constraints, even as primary competitors are facing more sizeable headwinds on that front. As a reminder, Apple had guided to $3-$4 bn revenue impact from supply in F3Q; although, admittedly primarily in Macs and iPads.
Strength in Macs highlight continued product momentum. While the variance in the latest estimates from IDC and Gartner are notable, both highlight solid growth for Mac shipments in F3Q, with Gartner estimating growth of +20% y/y (vs. market of +5%) vs. IDC's +9% y/y (vs. market of +13%), beating our prior estimate for a mid-single digit increase.
Maintains Overweight rating and raises target to $175 from $170. 
Cue Figures 1-4: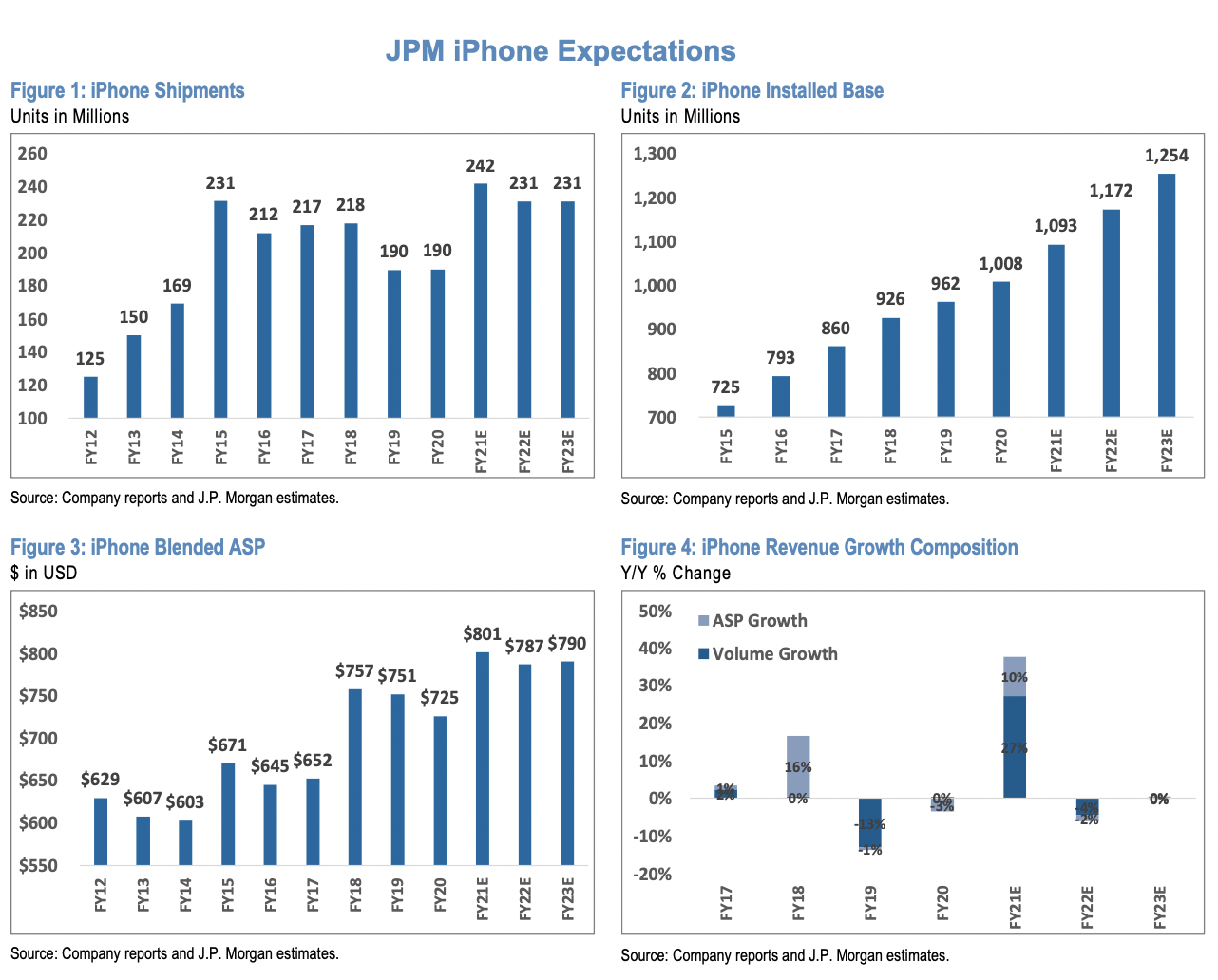 My take: I've posted this out of order. Chatterjee came in a day earlier and $9 higher than Katy Huberty.