"We are buyers heading into the iPhone 13 launch in September" — Analyst Katy Huberty
From a note to Morgan Stanley clients that landed on my desktop Thursday:
As we wrote in our June 23rd Apple report – Apple call volume for the majority of the June quarter was as low as we can remember over the last 5 years, driven by regulatory headlines and concerns that a more evolutionary iPhone "s-cycle" would extend iPhone replacement cycles and drive Y/Y revenue declines in FY22. AAPL stock performance for most of C2Q matched this sentiment. Despite posting record March quarter earnings in late April, shares underperformed the S&P 500 by 10 points from mid-April to early June (Exhibit 2). But since troughing at ~$123 in early June, Apple shares are up over 20%, outperforming the S&P 500 by 16 points. We'd attribute this to three primary factors.
First, there has been a general flight to quality big tech names in recent weeks, with AAPL, AMZN, FB, GOOGL and MSFT outperforming the S&P 500 by 8 points, on average, since early June.
Second, App Store growth accelerated in the month of June, to +17% (Exhibit 3), with most of the App Store's largest markets showing a clear acceleration on both a Y/Y and 2-year stacked basis (Exhibit 4), supporting the view of secular services growth.
And lastly, iPhone supply chain data indicates iPhone builds are expected to grow at a mid-to-high teens percentage Y/Y in C2H21, which along with recent share gains further supports our view that iPhone revenue can grow in FY22, and refutes the concerns of iPhone s-cycle declines (see more below).
So, while share price performance post earnings may be more muted given Apple's recent outperformance, we are buyers heading into the iPhone 13 launch in September, where we see the combination of mature replacement cycles, increasing 5G adoption, improving retail store traffic, longer battery life and camera quality, and share gains against Huawei as drivers of iPhone outperformance relative to past s-cycles.
Maintains Overweight rating and raises target to $166 from $162. 
Cue Exhibit 2: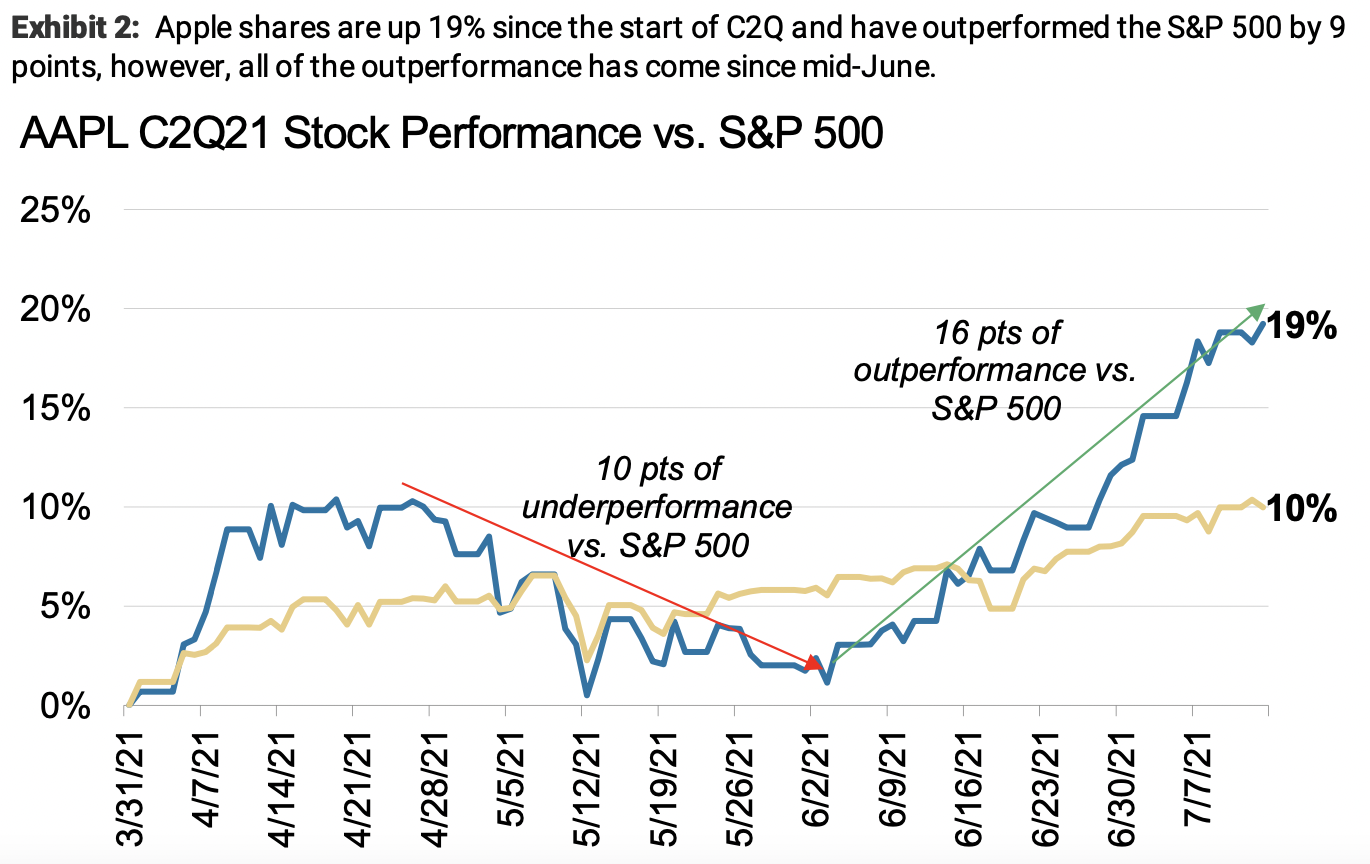 My take: This is Huberty's fourth Apple note and second target hike in three weeks. Think she's trying to send a signal?