From a Facebook post by Janis Friedlander Svendsen, afficanced to director Glenn Weiss: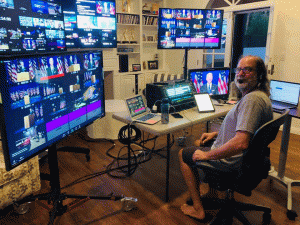 This is my fiancé and I could not be prouder of this man than I am at this historic moment in time. He has been on endless Zoom calls for months working on production aspects and directing the Democratic National Convention. Throughout these past few months, the pandemic has had the production team pivoting on a daily basis. First Glenn was going to Milwaukee, then Delaware and in the end and since there were so many LIVE remotes anyway, he had an entire control room set up in the house.
I have had the privilege to watch Glenn (from our Family Room) plan out and bring in all the technology to direct 58 cameras from around the country, deal with dozens of speakers and talent, and hundreds of folks on the production team. Watching the process of Glenn and his partner, Ricky Kirshner work with the leadership of the DNC and Biden campaign to make this all happen has been astonishing. The level of detail has been extraordinary. We even have a generator in our backyard as the heatwave has caused blackouts in our area.
I have played the role of Craft Services, "Truck PA", and more. Glenn at the helm is steady, creative, calm, funny, polite, and decisive. I know I am biased, but Glenn's talent and experience were exactly what this unconventional convention needed. As a proud Democrat and American citizen (and loving partner), I am so grateful we had Glenn's leadership and instincts helping to make this coming together of our party so successful and meaningful… — with Glenn Weiss in Brentwood
My take: I love seeing what's going on behind the screen.
See also: Shot on iPhone: The raucous fringes of RNC 2016 (video)