Stock futures slid Wednesday after U.S.-China relations showed signs of further deterioration, and investors questioned whether Congress will reach an agreement on the next stimulus bill before lawmakers start their summer break.
Futures tied to the S&P 500 ticked down 0.4%. The benchmark index has advanced on each of the past three trading days and stands just 3.8% below its record high after a four-month rally.
Stock futures turned lower after China's Foreign Ministry said the U.S. had instructed China to close its consulate in Houston. That raises the specter of an escalation in tensions between the governments of the world's two largest economies, and prompted Beijing to condemn the move as outrageous and unprecedented. Both the yuan and shares in Hong Kong dropped.
"On the face of it, like the scale of the virus, this is a very serious development," said Richard McGuire, head of rates strategy at Rabobank. "Sentiment has been knocked, but only modestly, given this further escalation of tensions between two of the world's superpowers."
My take: Sentiment is as changeable as a baby's bottom.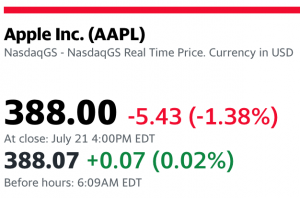 UPDATE: As if to prove my point, Mr. Premarket has already turned Apple green.