Global stocks plunged Monday as the United States andChina grapple with new coronavirus outbreaks, signaling that the pandemic isn't done wreaking havoc on the global economy.
Dow futures plunged more than 800 points, or 3.2%, extending losses ahead of the opening bell. S&P 500 (SPX) futures dropped 3%, and Nasdaq futures were down 2.3%.
Markets across Asia also recorded steep declines after Beijing recorded a fresh cluster of the virus originating in the city's largest wholesale food market. The Chinese capital has recorded 79 new cases since a locally transmitted infection was reported last Friday for the first time in nearly two months...
For weeks, Wall Street appeared increasingly disconnected from the rest of the world — big stock gains seemed incongruous with relatively high unemployment numbers and other data showing the economy is struggling. But markets have begun to catch up to reality, and despite a small recovery Friday, US indexes are on pace for heavy declines to start this week.
My take: Here we go. Knives falling everywhere.
UPDATE: Mr. Premarket got pwned.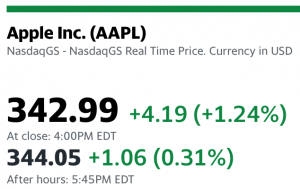 From the Wall Street Journal's "Stocks Close Higher After Falling on Virus Fears" ($) posted Monday evening:
U.S. stocks climbed Monday, staging a dramatic reversal, after the Federal Reserve signaled its latest efforts to support financial markets through the coronavirus pandemic.
The Dow Jones Industrial Average swung more than 1,000 points from its low to its high before closing up 157.62 points, or 0.6%, to 25763.16. Stocks within the blue-chip index and other major benchmarks got a boost after the Fed said it would expand its bond-buying program to include debt from individual companies.