"If you zoom out into the future, and you look back, and ask the question, 'What was Apple's greatest contribution to mankind?' It will be about health." — Tim Cook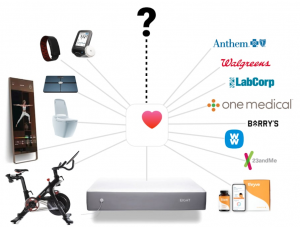 From Rob Litterst and Nathan Baschez' "healthOS" posted Friday in Divinations:
On one hand, we're seeing a proliferation of health sensors that will only continue to accelerate... On the other hand, we have a healthcare system that isn't making use of any of this data and isn't exposing any of the data they generate in any sort of structured or portable way.
Apple's goal is to connect these dots by becoming a trusted broker that stands in the middle...
Before Apple Health came along this data was closely guarded by healthcare vendors that have restrictive privacy needs. Further, healthcare companies have historically shut down attempts to integrate EHR into mobile devices, partially because it's complicated, but also because they have a big disincentive to allow a new data layer to form that allows patients to switch between providers more easily. Both Google and Microsoft have tried in the past, and both got shut down. So why Apple?
Put simply, it's the combination of scale and privacy. Apple's focus on privacy got them in the door with healthcare companies, and their scale allows healthcare providers to tap into their customer base for large scale research studies that make the relationship mutually beneficial.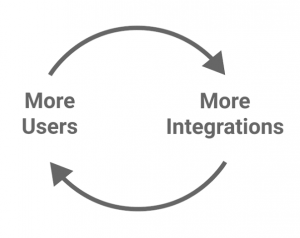 This relationship creates a feedback loop: the more users Apple can get in their Health ecosystem, the more likely new healthcare companies are to partner with them. The more healthcare companies partner with them, the more compelling Apple's health ecosystem becomes for users who aren't on it. Growing each side of this marketplace deepens the trenches of Apple's health data moat, and since this moat is so uniquely theirs, it's become their biggest priority.
The goal is to become a non-negotiable integration point everyone can rely on.
My take: Good plan. Smart piece.