Preliminary estimates from my panel of pro and indie analysts. Plus: How the pros fine-tuned their numbers.
Once again I kick myself for not asking Apple analysts to estimate the average selling prices (ASPs) of the iPhones sold last quarter—because that's where the action is these days. iPhone unit sales are still growing, according to most analysts, but only by single digits and only slightly faster than the rest of the smartphone market.
The estimates of the 17 analysts I've heard from so far—10 Wall Street professionals and 7 independents—range from 39.8 million to 43.3 million, a fairly typical spread. The average, 42.05 million, represents 2.4% year-over-year growth.
This is what that looks like in context. (Click here if you can't see the interactive chart.)
If you click or touch the second column the pattern is easy to see. After three bad quarters in 2016—tough compares to three amazing quarters in 2015—iPhone growth has been conspicuously flat.
Below: The individual analysts estimates, pros in blue, indies in green. And, below that, a chart showing how the pros have changed their tune over the past three months.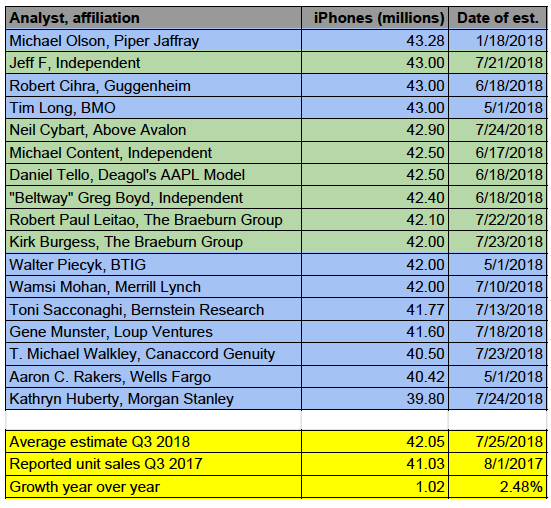 Click to enlarge.
Below: The adjustments 10 Wall Street professional have made on their Q3 unit sales estimates this quarter. Click the "Change" column to see the action. Not seeing the chart? Click here.
We'll find out who was closest to the mark when Apple reports its earnings next Tuesday, July 31, about 30 minutes after the closing bell.
UPDATE: The chart above was revised to reflect the big, 5.8% change in Katy Huberty's iPhone estimate spotted by the Macalope last week. See Trouble ahead: The perpetual state of Apple. Even after making the Street's largest adjustment, Morgan Huberty still ended up with the Street-low estimate.