Katy Huberty expects Apple to report an in-line June quarter and weaker-than-consensus September guidance, nevertheless she bumped her price target $18 (8.4%). Here's why.
From a note to Morgan Stanley clients that landed in my inbox Tuesday:
Two months ago we introduced our SOTP-based price target frame work for Apple, where we value Apple's Hardware/Device business (82% of FY19 revenue) using a blend of an HPQ and MSFT EV / Sales multiple, and the Services business (18% of FY19 revenue) using the median of 10 internet/services/platform [enterprise value] EV / Sales multiples.
With the average internet/platform comp up 16% since May 1 (and MSFT up 12%), we've seen a meaningful re-rating of peer multiples, which subsequently increases our SOTP-driven price target for Apple to $232, from $214 (Exhibit 12).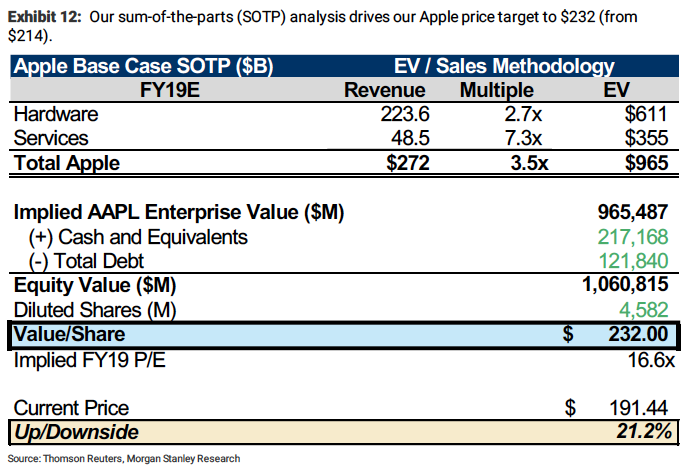 Click to enlarge. 
At $232, Apple trades at a 3.5x EV / 2019E Sales multiple and a 16.6x P/E on FY19E EPS, slightly less than one turn above Apple's 10-year historical average P/E multiple of 15.8x.  However, with Services increasingly becoming a more important driver of both revenue and gross profit dollar growth (we estimate Services will account for 27% of Apple revenue and just under 40% of gross profit dollars by FY22), plus the fact that Apple has a larger and more accessible cash balance today, we believe this premium valuation is warranted. And as Services growth continues to stand out, we believe investors will begin to recognize this fundamental shift in company structure re-rating shares higher.
Maintains Overweight rating and raises price target to $232 from $214.
My take: If Huberty's new method for valuing Apple seems somewhat arbitrary, it's better than most of her peers, which seem completely arbitrary.