Report says Apple still hasn't settled on whether to use Qualcomm, Intel or both in the next iPhones.
From a note to clients by Cowan semiconductor analyst Karl Ackerman that landed in my inbox Tuesday:
Our field work in Asia last week indicates builds for CQ1 are now 53MM, largely in-line with our prior view of 52.5MM units 30 days ago (see iPhone demand momentum not rebounding). While overall units are largely unchanged, build expectations for the X continue to be curtailed – now at 17MM units (vs. 21MM last month). We would still not rule out AAPL reporting sell-in numbers slightly higher than procurement builds in CQ1 given the mismatch between builds and sell-in numbers in CQ4.
Demand momentum going into CQ2 doesn't appear to be all that great, either, with our field work signaling a more concrete view of CQ2 procurement for ~42.5MM units, flat Y/Y. This number is inclusive of 9MM units for the iPhone X (down from our preliminary view of 13-16MM units ahead of Chinese New Year and the original plan of 35MM units in Nov '17).
Below: You can see the mismatch between IPhone builds and sell-in C4 '17: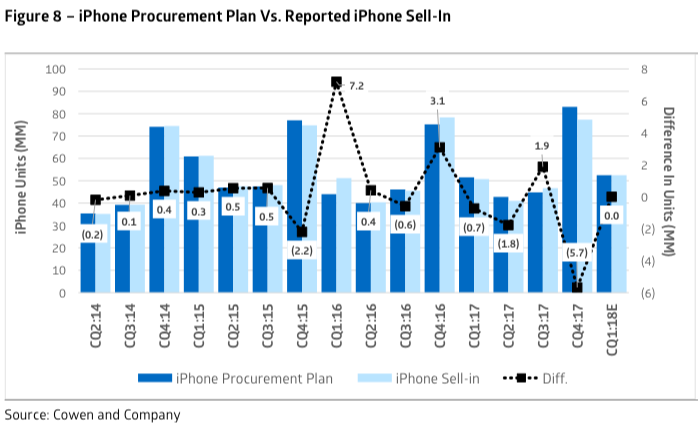 Click to enlarge.
In regards to the battle for the soul of Qualcomm, Ackerman adds that Apple's is close to deciding on a modem supplier:
The baseband on the iPhone has not yet been finalized. Despite our supply chain work indicating some yield challenges on INTC's 14nm baseband, which may affect qualification times of other baseband components, the baseband spec shouldn't be finalized for another few weeks. Therefore, as far as we can tell today the baseband remains dual-sourced from INTC and QCOM and share opportunities at RF suppliers appear in play.
My take: Dovetails with what we've been hearing from KGI's Ming-Chi Kuo.