The biggest shocker: Apple's gross margin on services may not be 40%, but closer to 70%.
In a multimedia presentation for clients—slide deck, conference call, 64-page note and 9-page "ideas engine"—Credit Suisse's Kulbinder Garcha made a strong case Monday morning for recalibrating Apple's gross margin on iPhones, iPads and, most dramatically, Apple Services.
Let's start with the change, highlighted in red dashed lines in these two Credit Suisse spreadsheets:
Before: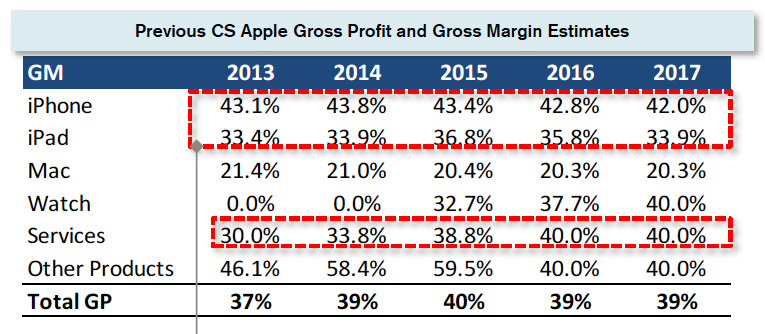 After:
See the line item for Services in 2017, where Garcha had raised estimated gross profit from 40% in the old model to 70.5% in the new?  That change, rippling through Credit Suisse's Apple model, ended up lowering the estimated margin on Apple's primo revenue source, the iPhone.
It's easy to forget, in the shadow of Facebook, Google, Amazon and the rest, that Apple is already one of the largest Internet services companies on the planet. It's a nice steady business (as opposed to, say, smartphone sales). And although average spending per user has flattened out in recent years, average profit per user, according to Garcha, is still growing smartly—and will continue to grow with the user base. He estimates that by 2020 gross profits from services could grow to $33.7 billion, and on the strength of this "underappreciated" annuity, he raised his Apple price target Monday to $150 from $140.
I asked him how he figured all this.
The recalibration was triggered, he says, by disclosures made by CFO Luca Maestri during the last earnings call—the one that was accompanied by a supplemental report on Apple Services with new details on growth rates and margins. Garcha's team had also discovered in a legal action against Apple the company's profit margin on iPads. Figuring that the margins on Macs don't change muh, he had most of what he needed to hit recalculate.
How confident is Garcha in his new spreadsheet?
On a scale of one to ten, he says, he's a nine.