From a note to Loup Ventures subscribers that landed on my desktop Tuesday:
While connecting lead times to demand is more of an art than a science, we've found that an expansion or compression of delivery times over the years have been a leading indicator of demand. Three days into the iPhone 14 cycle, we looked at average lead times in eight countries for the base iPhone 14, Pro and Pro Max models and found an average lead time of 3.1 weeks. This is a longer average than we observed in 2021 and 2020 (measured as 2.0 weeks) as well as the cycles of 2018 and 2019 (measured as 2.5 weeks).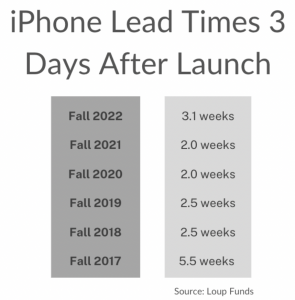 The 3.1-week average is the highest since the 5.5-week average in Fall 2017 preceding iPhone revenue growth of +18% in FY18. The following year, we observed iPhone lead times compress to 2.5 weeks which kicked off a year where iPhone revenue declined by -14%. This suggests that the change in lead time is more important than actual weeks of lead time. It's worth noting that some of that decline in FY19 was attributed to timing of initial iPhone shipments. Adjusting for this timing dynamic, we believe that iPhone revenue would have been down slightly in FY19 compared to the +18% growth in FY18.
The chart [above] outlines the average iPhone lead time for iPhone 14, Pro and Pro Max models three days after launch.
My take: I found Munster's second chart, below, a little harder to make sense of. One thing it shows is that in some countries -- like Canada -- wait times for the Watch Ultra are even longer than for the iPhone Pro Max.