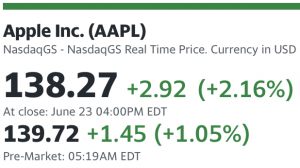 Stock futures were rising Friday, led by shares in the technology sector as bond yields pulled back...
The Nasdaq index rose more than 1.6% Thursday after the yield on the 10-year Treasury fell to 3.068%. Early Friday, the yield was at 3.063%.
Lower long-dated bond yields make future profits more valuable, especially for fast-growing tech stocks whose valuations reflect a relatively long-term stream of future profits.
Tech stocks have been hit particularly hard this year as central banks, including the Federal Reserve, have moved aggressively to boost interest rates. The Nasdaq has declined more than 28% this year.
Stock market gains Thursday came after the second day of congressional testimony from Federal Reserve Chairman Jerome Powell, who reiterated that the central bank's efforts to cool historically high inflation by increasing interest rates could lead to a recession. The Fed chief, however, also indicated that if the economy and inflation slow down enough the the Fed could slow down the pace rate hikes.
Zach Stein, chief investment officer at investment advisory firm Carbon Collective, said that while markets have started to recover concerns that led stocks into a bear market still remain, such as rising inflation, an aggressive Federal Reserve, higher oil prices and geopolitical tensions.
"While the Federal Reserve has assured investors that it remains committed to tackling inflation, it's unlikely that the Fed's tactics will be enough to lower inflation, which isn't being driven by monetary oversupply, but instead by an undersupply of goods," Stein said. "The central bank has little power to speed up the supply chain, which is at the root cause of the inflation we've seen."
Charts: Yahoo!Finance sees a neutral commodity-channel-index pattern. Max pain stays at $137 with the same call mountain at $140.