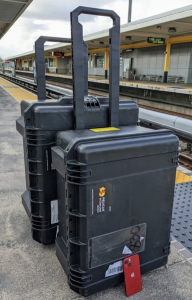 Last month, Apple launched its Self-Service Repair program, letting US customers fix broken screens, batteries, and cameras on the latest iPhones using Apple's own parts and tools for the first time ever. I couldn't wait. I'd never successfully repaired a phone — and my wife has never let me live down the one time I broke her Samsung Galaxy while using a hair dryer to replace the screen. This time, armed with an official repair manual and genuine parts, I'd make it right...
I expected Apple would send me a small box of screwdrivers, spudgers, and pliers; I own a mini iPhone, after all. Instead, I found two giant Pelican cases — 79 pounds of tools — on my front porch. I couldn't believe just how big and heavy they were considering Apple's paying to ship them both ways.
[Skipping a 12-paragraphs detailing a complex, error-code generating battery swap...]
It would be an understatement to say that Apple has a history of resisting right-to-repair efforts. Before the iPhone, replacing a battery was typically as easy as inserting a thumbnail to pop off your phone's back cover; afterwards, phones largely became tricky to even open without specialized tools, which arguably pushed customers to replace their perfectly good devices when they might have only needed a new screen or battery. Also see: batterygate.
The more I think about it, the more I realize Apple's Self-Service Repair program is the perfect way to make it look like the company supports right-to-repair policies without actually encouraging them at all. Apple can say it's giving consumers access to everything, even the same tools its technicians use, while scaring them away with high prices, complexity, and the risk of losing a $1,200 deposit. This way, Apple gets credit for walking you through an 80-page repair, instead of building phones where — say — you don't need to remove the phone's most delicate components and two different types of security screws just to replace a battery...
I don't think Apple expects anyone to seriously take it up on the offer of self-service repair kits. It stacked the deck in favor of taking your phone to an Apple Store, where it can tempt you to buy something new instead. The real victory will come months or years down the road, though. That's when Apple can tell legislators it tried to give right-to-repair advocates what they wanted — but that consumers overwhelmingly decided Apple knows best.
My take: Kudos to Hollister for trying. If he hadn't had a story to write, he confesses, he wouldn't have.