From a note to clients by analyst Wamsi Mohan that landed on my desktop Thursday:
Key takeaways, implications of our installed base analysis We view the installed base (IB) as a key indicator of the potential of Apple's ecosystem. The overall IB has grown to over 1.8bn units and fig 5 shows our estimates of the breakdown amongst various devices. The hardware IB is the platform on which Apple builds and grows its services business. We highlight the following:
Size of the global iPhone IB of about 1.1bn units at the end of 2021 (about 760mn primary and 320mn in the used iPhone IB),
The used iPhone IB has been growing faster than the new iPhone IB albeit off a smaller base (2017-21 CAGR of 17% vs. 3%), and we expect the higher growth rate to continue (2021-26 CAGR of 15% vs. 2%),
A larger IB can eventually drive higher consumption of services and sales of incremental devices (halo effect),
The iPhone IB in China has been growing faster than other regions, and we expect that to continue, and
Secondary market growth presents a large services opportunity.
Our IB analysis indicates to us that our prior iPhone estimates may be too conservative and we raise our F23/F24 iPhone units from 231mn/222mn to 237mn/230mn. Reiterate Buy on multiple tailwinds on both hardware and services (user growth, ASP, and increased penetration of IB). PO moves to $200 (from $215) on 30x (from 33x) C23 EPS of $6.64 (from $6.53) (lower multiple on increased macro headwinds, and supply chain headwinds).
Maintains Buy rating, lowers target to $200 from $215.
Below: Mohan's estimates of installed base, by device. (Click to enlarge.)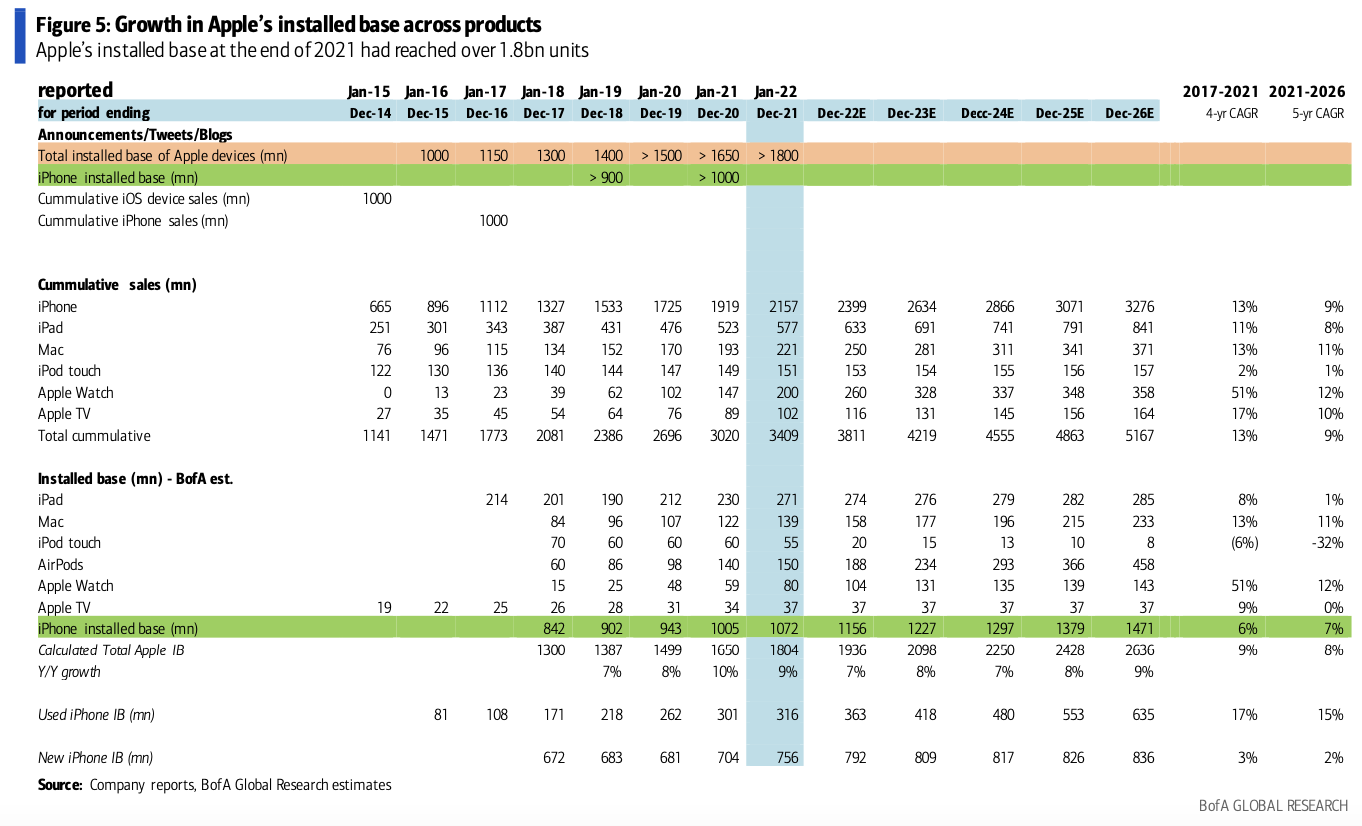 My take: BofA Securities held the market-high target on Apple for 112 days. That spot, according to my records, is not jointly held by Evercore's Amit Daryanani and Loop Capital's Ananda Barauh at $210 a share. For those keeping score, that's $72.65 (35%) above Thursday's closing price.