Since early November, Apple shares have found a bottom at $150 each, an amount that drew investors in. They didn't buy, though, at $150 this time.
And their decision to stay on the sidelines makes it much tougher to know where that bottom price is — and much easier to think that stock will just keep dropping. Shares are already down more than 21% for the year.
No wonder if investors are unsettled. They think: If Apple can't hold the line, how can the broader market fare much better or even as well?…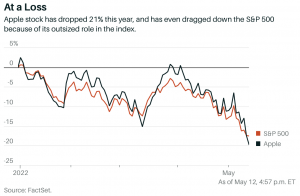 Apple's decline speaks volumes about market sentiment.
Usually, when markets are concerned about the economy and earnings growth, the stocks that get hit the hardest are the ones that see a rapid decline in earnings expectations. Apple's profit stream is seen as high quality and consistent.
The fact that Apple is getting hit so hard is a red flag that investors are waving: One belief could be, in serious numbers, that economic demand could falter enough for shoppers to think twice about buying that new iPhone, or iPad, or Mac.
"It is a troubling sign when investors sour on best of breed names in an already difficult tape," wrote Nicholas Colas, co-founder of DataTrek. "AAPL's move today is one more reason we remain very cautious on stocks."
Apple is top name—and has been. And with that ranking and reputation comes the big role it plays in the broader maker. Keep an eye on the tech giant. It can tell a lot about where things are headed.
My take: I take little comfort in this.