In case you missed it. Cue the YouTube...
From Todd Spangler's "Apple Is First Streamer to Win Best Picture Oscar for 'CODA'" posted late Tuesday by Variety:
Apple made history by nabbing Hollywood's most coveted honor, as "CODA" won the Oscar for best picture at Sunday's Academy Awards.
Apple Original Films' "CODA," which has a predominantly Deaf cast, marks the first time a streaming service has won the best picture Oscar — with Apple TV Plus beating rival Netflix to the punch. "CODA" took the top prize over Netflix's "The Power of the Dog" from director Jane Campion, which was the other leading contender in the category.
In addition, "CODA" star Troy Kotsur won the supporting actor trophy— the first time a Deaf male actor has landed an acting Oscar, and the second Deaf actor ever to do so after "CODA" co-star Marlee Matlin won for "Children of a Lesser God" in 1986. In the film's third win of the night, "CODA" director Siân Heder won in the adapted screenplay category.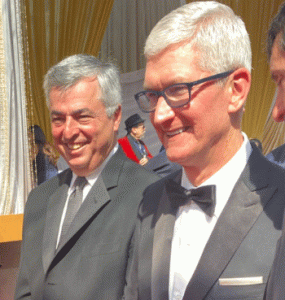 The three Oscars for "CODA" were Apple's first ever. "CODA" also made history as the first Sundance Film Festival movie to take home the Oscars best picture prize. And it's the first film to win best picture without having been nominated in the directing and editing categories.
Apple is estimated to have spent more than $10 million on the Oscars campaign for "CODA" — more than the movie's sub-$10 million production budget.
My take: According to the Hollywood Reporter, Apple had already spent $25 million to snag CODA in the first place. Tim Cook and Eddy Cue were there to watch their investment pay off.