All times Eastern.
A product-heavy event, led by a 5G iPhone SE (at $429 with plenty of margin), a couple new shades of green, a new iPad Air with M1 and 5G, a new chip for the Macs (two M1 Max's stuck together and renamed M1 Ultra), and finally two new "studio" products -- the Mac Studio (a Mac Mini on steroids) and the Studio Display, apparently powered with A13 bionic chips out of inventory. The Studio line is clearly aimed at the creatives whom one suspects are already Mac users. Nothing here for shops locked into Windows, which is to say the vast majority of enterprises.
Subscribers who have signed up: See you on Zoom at 3 pm.
1:57 Back to Tim. Wrapping it up. Lands on Apple silicon and integration as what only Apple can do. And that's a wrap.
1:56 Back to John.  Mac Studio starts at $1,999 or maybe $3,999  Studio Display starts at $1,500. Teases MacPro with M1 "for another day."
1:48 Nicole on Studio Display. 30 degree tilt. Adjustable arm gives you more. 27-inch act. 5K Retina display. Truetone etc. A13 Bionic chip inside. 12 MP camera. 3-mic array. Spacial audio. Lots of ports. Enviro impact etc. Cue the weird video. Waiting for price points.
1:38 Colleen on Mac Studio. "Mac Studio will completely transform studio workflows everywhere." Hyperbole, much? Fans! Promise of "sound so minimal you'll barely even hear" it makes worry that it might be loud. Comes in M1 Max or M1 Ultra forms. Lots of comparisons. "Just crushes" earlier models. A lot of "up to" numbers. A fully tricked out Mac Studio is going to cost you a bundle. Featured workflows: musicians, graphic designers, software developers, photos, videos. Those are the markets Apple is aiming for.
1:36 Back to Ternus. Pitching directly to people who work in "studios." Modularity is how he transitions to Mac Studio (a double-tall Mac Mini) and Studio Display.
1:32 Back to Ternus. How MacOS scales with M1 Ultra. More Mac apps than ever before. Developers gush. Amazing graphics. Emphasis on how speedier chip gives creatives more freedom, more possibilities.
1:27 Quick Cut to Johny with an even more exotic accent. M1 Max's secret feature: It can be directly connected to a second chip. UltraFusion or some sort buzzword. Many many cores, mucho memory, plenty of neural engine cores, cool thermals etc. More speed, less power.
1:26 John Ternus Intruduces M1 Ultra
1:24 Back to Tim. Next the Mac. M1 in almost entire Mac lineup.
1:17 Angelina, with Caribbean accent. iPad Air gets M1 (like MacBook Pro) Was this predicted? [Yes, 9to5Mac had it yesterday]. Also a 5G modem, for those willing to pay for a second phone line. Magic keyboard, Apple Pencil 2. Highlights new iMovie release. Environment stuff again. Cue the video. Big pitch for budding filmmaker. [Streaming problems here again.] Available starting $599, 64, 256, Order Friday, avail March 18.
1:16 Back to Tim Cook and iPad. "Magical experience." "Fantasic" again. iPad Air getting taken to the next level, new, "even more amazing."
1:10 Francesca to tell us more. We've seen these specs before. Live text is their chosen new feature made possible by all this speed. Glass on front and back, like iPhone 13, but with rounded sides. With 5G, as predicted. 12 mega pixel camera. Same camera software as iPhone 13 Pro. Still has touch ID, not FaceID. "A fantastic new iPhone." That's the slogan, I guess. Starts at $429, $30 more than some predictions.
1:08 Apple silicon. A15 bionic. Signal processors, neural engine, secure enclave. We've had these for years. Coming the new iPhone SE (that's the new name).
1:07 Turning to iPhone. 2 new greens. Big whoop. Not what I'd call innovation, more like a way to signal "I'm a new iPhone." Preorder Friday, arrive March 18
1:05 Bringing drama, suspense to our lives. Now MBL announcement coming up... Friday night baseball. Not the NFL rumors we've been hearing.
1:01 Tim Cook starts with Apple TV+. The After Party gets added to the usual list of 5 titles. Big push for CODA and the Scottish play. Cue the video. [Streaming problem here. I've fallen maybe 45 seconds behind the live feed.
1:00 [upbeat music] according to the subtitles.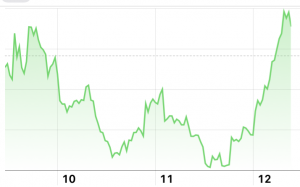 12:57 Switching off the news, returning to the Apple light show.
12:25 Just noticed that Apple -- and the rest of the market -- hit a bottom and bounced at about 11:45. Given that the Dow went into correction territory Monday as the S&P 500 was suffering its worst one-day hit in more than a year, the bears were probably ready for a breather.
12:04 Biding my time, watching Boris Johnson watching Volodymyr Zelensky give the British Parliament a day-by-day account of the war.
12:00 The show starts in 60 minutes, at 10:00 a.m. Pacific, 1:00 p.m. Eastern