Meta's warning and its cratering stock price were reminders that even among tech giants, Apple holds extraordinary sway because of its control of the iPhone. And the tech industry received a clear notice that a long-planned shift in how people's information may be used online was having a dramatic impact on Madison Avenue and internet companies that have spent years building businesses around selling ads.
"People can't really be targeted the way they were before," said Eric Seufert, a media strategist and author of Mobile Dev Memo, a blog about mobile advertising. "That breaks the model. It's not just an inconvenience that can be fixed with a couple of tweaks. It requires rebuilding the foundation of the business."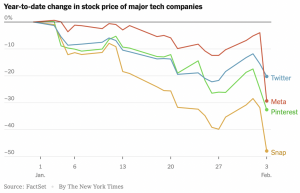 Other internet companies that depend on ads felt the tremors, too. But smaller outfits appear to have been more nimble than Meta in their response to Apple's changes...
Apple's changes have far-reaching repercussions that may hurt consumers' wallets, Mr. Seufert said, though consumers are overwhelmingly choosing not to be tracked. While Meta and other big media companies have developed new methods to target people with ads, some smaller brands, whose ads can no longer reach new customers, have found a different solution to the problem: raise prices.
My take: "Free internet" should probably be couched in quote marks. Your cookies and tracking data are not without value.