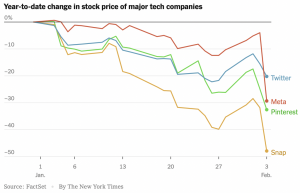 At some point, the jig is up for almost every highflying tech company (consider that Cisco was, for a time in 2000, the world's most valuable company). That's usually because executives put on blinders to one constant rule of innovation I've observed: The young devour the old.
So, are the worrisome quarterly results posted Wednesday by the outfit formerly known as Facebook an early sign of that? That seemed to be Wall Street's conclusion, which until now has showered the social networking giant with unquestioning love, but nonetheless shaved more than $250 billion* off its market value, or 26 percent, the largest one-day dollar drop for a U.S. company in history.
That's quite the indictment, since the money crowd has stuck beside the company despite a roiling series of controversies in the 18 years since its founding. Privacy violations, foreign interference, harmful impacts on teenage girls, data breaches, voluminous disinformation and misinformation, and the hosting of citizens charged with seditious conspiracy have made the company into the singular villain of this digital age. It has even supplanted the ire that was once aimed at Microsoft (ironically, seen today as the "good" tech company).
But until now, none of these myriad sins have seemed to matter to investors, who have cheered on Facebook's digital advertising dominance that has yielded astonishing profits...
So Facebook is forced to be creative on its own, not always its strongest suit given how it is known for ham-handedly shoplifting ideas from others.
*According to Friday's NYT, Facebook got a $230 billion haircut. Much as I admire Kara Swisher, I'm going with the number that was fact-checked.
My take: I can't seem to get enough of Zuckerberg's comeuppance, maybe because was such a long time coming. And because Apple had a hand in it.