Jobs' Instagram profile paints a pretty fun portrayal of college life. Recent photos show her glammed up with girlfriends and posing on a boat in front of azure water while in Sicily, Italy.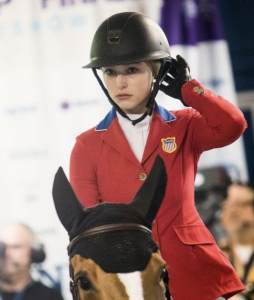 The Apple heiress competes regularly at horse shows. In May [2018], she won the $130,000 CSI 3 Grand Prix at the Split Rock Jumping Tour in Lexington, Kentucky, and in August, she beat out a number of riders to take home the top prize at the $100,000 Reliable Rentals Grand Prix with her horse Venue D'Fees Des Hazalles in British Columbia, Canada.
"Riding always keeps you humble. It's great to see your hard work pay off, but you have to constantly stay at the top of your game," Jobs told tutoring service Upper Echelon Academy in a 2016 interview.
"It has taught me independence, dedication and perseverance, which I can apply to all realms of my life," she said.
Jobs' mother, Laurene Powell Jobs, paid $15.3 million in 2016 for a 3.5 acre ranch in Wellington, Florida, which has been dubbed "the equestrian capital of the world." The compound, the Miami Herald reports, is right across the street from an estate Bill Gates purchased for $37 million. The Microsoft co-founder's daughter, Jennifer, 21, is also a competitive equestrian.
My take: Time flies; slow news day.