But she frames her analysis as a question: 'From 0 to 60 by 2025?'
From a note to Morgan Stanley clients that landed on my desktop Friday:
Importantly, this is the first press report to include a broad number of data points sourced to Apple insiders and provides enough reported detail to potentially lend credibility to the idea that Apple's Car launch could both accelerate adoption of new technology (EV + AV) and expand the addressable market similar to past Apple product launches. (We note that the report is unconfirmed and Apple has not commented.) We see the prospects of Apple Car – representing the clearest path to doubling Apple's revenue and market cap – catalyzing a shift in investor narrative back toward the attractiveness of the platform (1 billion loyal customers) and long-term, sustainable growth. Below we highlight reasons investors should pay attention to Apple Car.
Huberty delivers five points — essentially five set pieces that draw on Apple's history of market disruption — excerpted below:
First, history suggests Apple isn't first to market. We can provide a number of examples from the last 20 years that show while Apple may not always be first to market, its innovation engine, differentiation via vertical integration, and manufacturing/operational excellence have allowed it to leapfrog first movers.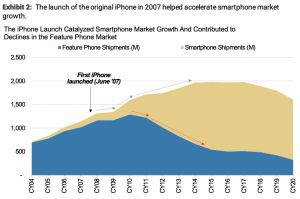 Second, Apple is likely to accelerate consumer adoption of AVs, as it did for smartphones, tablets and wearables. Evidence shows that when Apple enters new markets, it serves as a catalyst to expand the addressable market beyond what was previously imagined.
Third, success at Apple comes in the form of vertical integration. Vertical integration lies at the heart of all of Apple's most successful products, and for good reason – with vertically integrated products Apple controls the entire technology stack, which allows for a unique and higher quality consumer experience.
Fourth, scale and supply chain execution are also important differentiators. Apple has immense scale and wide-ranging global supply chain relationships that give it a differentiated manufacturing footprint with which to produce a Car.
Fifth, the ultimate monetization opportunity is Services. Just 4% market share of the $10T global mobility market would double Apple's current revenue base. Consumers spend an average of 1 hour driving each day. If that time shifted to engaging with mobile applications, it implies as much as a 25% increase in Services engagement for an Apple user that also owns Apple Car, all else equal.
My take: Wedbush's Daniel Ives also released a quick take. The money quote:
We continue to believe its a matter of when, not if, Apple enters the EV race and this will add another $30+ per share of TAM to the Apple growth story over the next few years given the golden age of EV transformation on the horizon.
See also: Mark Gurman: Here's why Apple's stock popped Thursday