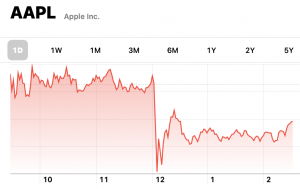 Shoppers looking for Apple Inc. devices this holiday season are facing a chilly reality: Most everything they might want to buy will take weeks to arrive.
Orders for the company's newest products -- the iPhone 13, iPad mini, ninth-generation iPad, Apple Watch Series 7 and MacBook Pro -- won't be fulfilled until November or December. Even some older devices, including the iMac announced in April, the Mac Pro and some pricier configurations of the MacBook Air, are seeing delays.
Having to wait for an Apple product is nothing new, with the annual release of the iPhone and other hot products bringing long lines and order backlogs. But this year the delays are spread more widely. And that threatens to undercut what could be Apple's biggest sales quarter in its history...
The iPhone -- Apple's flagship product, accounting for about half of its sales -- is the highest-profile case of shortages. One month after going on sale, the iPhone 13 Pro is hard to find in every color, configuration and size. That's not usually the case, according to Apple store employees, some of whom say they're increasingly dealing with frustrated customers.
My take: Most analysts seem to be impressed by the iPhone 13's extended lead times. To Gurman -- or maybe his editors -- they spell doom. This story's subhead...
Store employees say supply situation is the bleakest in years
...quotes Apple employees who are not only unidentified, but who appear nowhere in Gurman's report.