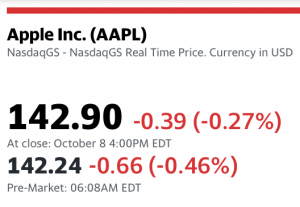 From Barron's "Dow Set to Slip, Alibaba Stock and Oil Prices Fly—and What Else Is Happening in the Stock Market Today" posted early Monday:
The stock market was mixed Monday, with Columbus Day in the U.S. likely making for a quiet day of trading, as Alibaba and Chinese tech stocks surged while investors await the beginning of earnings season and key inflation data in the week ahead.
U.S. bond markets are closed for the Columbus Day holiday while the New York Stock Exchange and Nasdaq remain open—but analysts expect much lower volumes Monday and a quiet day ahead. The S&P 500 has seen an average gain of 0.7% on Columbus Days dating back to 1991, compared with a daily average rise of 0.04%.
Investor attention remains focused on familiar themes, such as supply-chain pressures on company profits, a global energy crunch, inflation, and the future of central bank stimulus.
Markets will be able to digest new updates on many of these topics in the week ahead. Earnings season gets under way in earnest in the coming days, and a major inflation indicator—the Consumer Price Index (CPI)—will be released Wednesday along with the latest minutes from the Federal Reserve's monetary policy committee.
"The week ahead will center around the U.S. CPI release on Wednesday but it might be a touch backward looking given that energy has spiked more recently and that used car prices are again on the march after a late summer fall that will likely be captured in this week's release," said Jim Reid, a strategist at Deutsche Bank.
My take: Bullish Williams %R pattern detected, suggesting that Apple may be oversold. Max Pain moved up over the weekend to $145 from $143.