"As of August, Apple TV+ has earned the smallest share of subscriptions among the premium streaming video on demand platforms."
From Brandon Katz's "State of the Streamer: Apple TV+ is Charting a Unique Path Through the Streaming Wars" posted last week by The Observer:
Nearly two years after launching Apple TV+ in November of 2019, Apple has remained notoriously secretive about its fledgling streaming service. While Netflix boasts about its market leading 209 million global subscribers and Disney+ reminds the industry that it's the fastest growing streamer with 116 million subscribers, Apple has never released an official accounting of how many viewers its streaming service has signed actually up.
According to Variety, Apple has said it has less than 20 million TV+ subscribers in the U.S. and Canada (which conveniently allows it to pay discounted rates to members of the International Alliance of Theatrical Stage Employees union). The Informationreports that Apple TV+ has 40 million global accounts and 20 million paying customers. Estimates from industry analyst Entertainment Strategy Guy suggest Apple TV+ has accrued just 8.1 million paying customers in the U.S. (which is certainly less than 20 million). Regardless of which datapoint you choose, the immediate reaction is the same: Apple TV+ is severely lacking after nearly two years...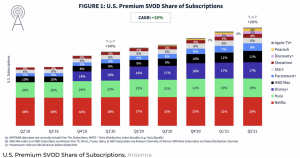 As of August, Apple TV+ has earned the smallest share of subscriptions among the premium streaming video on demand (SVOD) platforms in the U.S., per transactional data firm Antenna...
Yet different streaming services have different ambitions and raw subscriber counts are not the only metric of success and failure in the streaming wars.
"They have data, cash, and prestige," [David Offenberg, Associate Professor of Entertainment Finance in LMU's College of Business Administration] said. "If they use those wisely and they're patient, they can continue building the service to the point where subscribers are using it for more than one month at a time."
"For Apple TV+ to be a seriously viable product that consumers are willing to spend $5 a month on — or an app in a bundle that they actually want to open — the value proposition has to be much better than what it currently is," [Julia Alexander, Senior Strategy Analyst at Parrot Analytics] said. "Apple TV+ has to create people's favorite show, which the team has done with Ted Lasso, but also give them a reason to stick around every night day after day."
My take: Apple doesn't need to win this race in order to win.