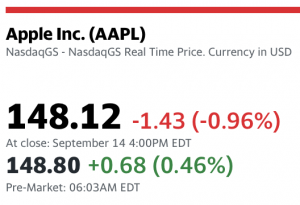 From the Wall Street Journal's "Stock Futures Tick Up After Market Pullback" posted early Wednesday:
U.S. stock futures ticked up Wednesday, signaling a tepid rebound for major indexes that have come under renewed pressure on concerns that the pace of the economic recovery is slowing.
Stocks have slipped in September amid worries that markets are ripe for a pullback after marching higher for much of the year. Just as concerns about high valuations are on the rise, investors say the economic rebound likely won't be as fast as they previously expected. The spread of the Delta variant of coronavirus, an economic slowdown in China and supply-chain difficulties have all dampened sentiment.
"We've shifted from worrying about premature tightening [by the Federal Reserve] killing off the recovery in equities to concerns about the strength of the recovery weighing on equities," said Sebastian Mackay, multiasset fund manager at Invesco. Mr. Mackay remains upbeat about the outlook for stocks, but said he has taken out insurance against volatility by buying put options.
My take: Apple usually bleeds the day after a big event, but shares may have shed enough value last Friday to last all week.