"Very few of the 30M+ app developers can afford to introduce friction to customer acquisition and payments"
From a note to Morgan Stanley clients that landed on my desktop Monday:
Why this matters: If it were to take effect, this ruling would allow app developers to offer users a range of lower-fee payment options for in-app purchases, beyond Apple Pay (which carries a 30% fee). We believe it would be possible for users to access alternate channels without leaving the app (e.g. via an in-app browser), resulting in a relatively low friction experience to either directly input credit card details or link to third-party payment accounts (like PayPal). However, this would require consumers to manage disparate accounts across many developers, creating more friction than the current App Store model. Based on recent commentary from Epic, we currently assume that AAPL will not allow developers to offer financial incentives (like discounts) for users to switch to direct payment methods, but this remains open to interpretation.
Apple Key Takeaways: Very few of the 30M+ app developers can afford to introduce friction to customer acquisition and payments, nor do they have the brand, credibility and marketing budget to drive consumers direct to their websites or other in-app direct payment platforms. At the same time, consumer purchasing habits are difficult to change and few consumers have the ability to manage multiple direct accounts and payment platforms. As such, we believe the right way to frame downside risk to AAPL (and Google Play) is by looking at revenue and profit exposure to the largest developers globally (Exhibit 2). While the changes implied by the US District Court ruling only technically apply to the US, Apple set a precedent recently when it announced changes to 'reader' apps are applied globally, and we therefore run earnings risk on a global basis. Net, if AAPL were to lose all revenue from the top 20 app developers globally, it equates to 2% of revenue and 5% of EPS in a worst case scenario. Using the Tinder experience of 40% direct payment adoption noted by our US Internet Research colleagues on even the top 100 developers equates to a slightly lower revenue (<2%) and EPS (<4%) risk.
Maintains Overweight rating and $168 price target.
Cue Exhibit 1: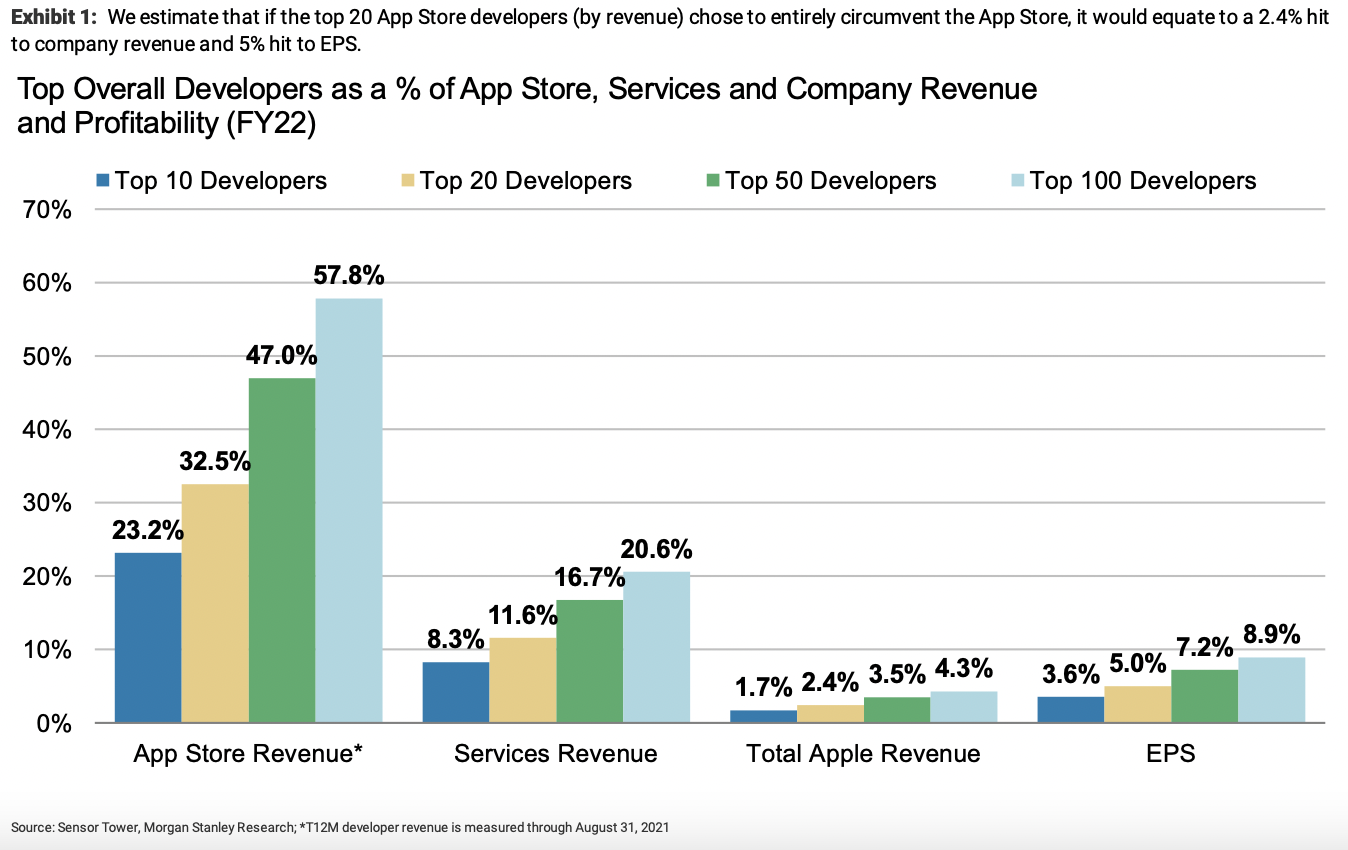 My take: Would the court require Apple to host buttons that open alternative payment channels via in-app web browsers, as Huberty suggests? To be litigated, I presume.