It's all about the promotions AT&T, Verizon and T-Mobile have started rolling out.
From a note to clients by analyst Jeffrey Kvaal snagged by StreetInsider ($Pro):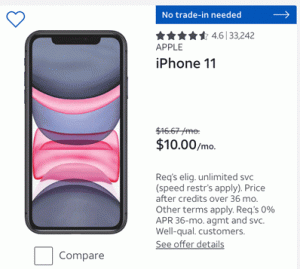 AT&T, then Verizon, and now T-Mobile have all restored promos to existing customers, which lifted US upgrade rates. We expect competition plus rising 4G congestion to incent all operators to extend 5G promos well into the iP13 cycle. We believe Apple gained ~3% of share in China at Huawei's expense plus further share in Europe. Huawei retains ~8% share in China and <4 % globally. We assume few of LG's users shift to Apple.
We lift our FY22 iPhone unit/ASP assumptions from 228mn/$824 to 232mn/$833 given well aligned US promos and ongoing share gains. This translates 4.6% sales growth and EPS of $5.85 (consensus 3.3%/$5.64).
Raises rating to Peer Perform. Maintains $155 price target.
My take: Kvaal's betting that the deals offered customers this fall by the carriers will do for the iPhone 13 what they did last fall for the iPhone 12.