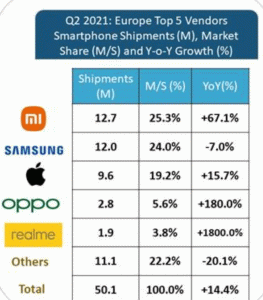 Samsung shipments dipped -7% YoY to 12.0 million units in Europe in Q2 2021. Samsung is performing well with new 5G models from the Galaxy A series, but it faces increasing competition from Apple in the high-end and the Chinese vendors in the low-end, and it has failed to take full advantage of Huawei's demise in Europe.
Apple posted a strong quarter, growing +16% YoY and shipping an estimated 9.6M iPhones in Europe during Q2 2021. The iPhone 12 range continues to resonate with loyal Apple fans who were overdue to replace their aging 4G models.
My take: Books could be written about what Samsung's smartphones once were and why they aren't anymore. But not by me.
NOTE: AppleInsider is referencing a Strategy Analytics report to which I don't have full access.