This time for giving up iPhone metadata for Don McGahn and his wife.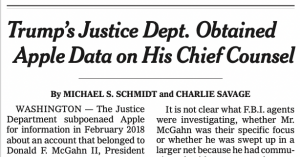 From Monday's Times:
The Justice Department subpoenaed Apple for information in February 2018 about an account that belonged to Donald F. McGahn II, President Donald J. Trump's White House counsel at the time, and barred the company from telling him about it, according to two people briefed on the matter.
Apple told Mr. McGahn about the subpoena last month, said one of the people, who spoke on the condition of anonymity to discuss the matter. Mr. McGahn's wife also received a similar notice from Apple, the person said.
It is not clear what F.B.I. agents were investigating, whether Mr. McGahn was their specific focus or whether he was swept up in a larger net because he had communicated with someone who was under scrutiny. As the top lawyer for the 2016 Trump campaign and then the White House counsel, Mr. McGahn was in contact with numerous people who may have drawn attention either as part of the Russia investigation or a later leak inquiry.
My take: These stories make me wonder how committed Apple is to protecting its users' privacy. (For the record, Trump was right to distrust his White House counsel. When Mueller called him in for questioning, McGahn sang like a canary.)