"A wildly important bit of ephemera that underpins the entire app ecosystem era."
From Matthew Panzarino's "This one email explains Apple" posted Friday on Recode:
An email has been going around the internet as a part of a release of documents related to Apple's App Store-based suit brought by Epic Games. I love this email for a lot of reasons, not the least of which is that you can extrapolate from it the very reasons Apple has remained such a vital force in the industry for the past decade.
The gist of it is that SVP of Software Engineering, Bertrand Serlet, sent an email in October of 2007, just three months after the iPhone was launched. In the email, Serlet outlines essentially every core feature of Apple's App Store — a business that brought in an estimated $64 billion in 2020. And that, more importantly, allowed the launch of countless titanic internet startups and businesses built on and taking advantage of native apps on iPhone.
Forty-five minutes after the email, Steve Jobs replies to Serlet and iPhone lead Scott Forstall, from his iPhone, "Sure, as long as we can roll it all out at Macworld on Jan 15, 2008."
Cue the email: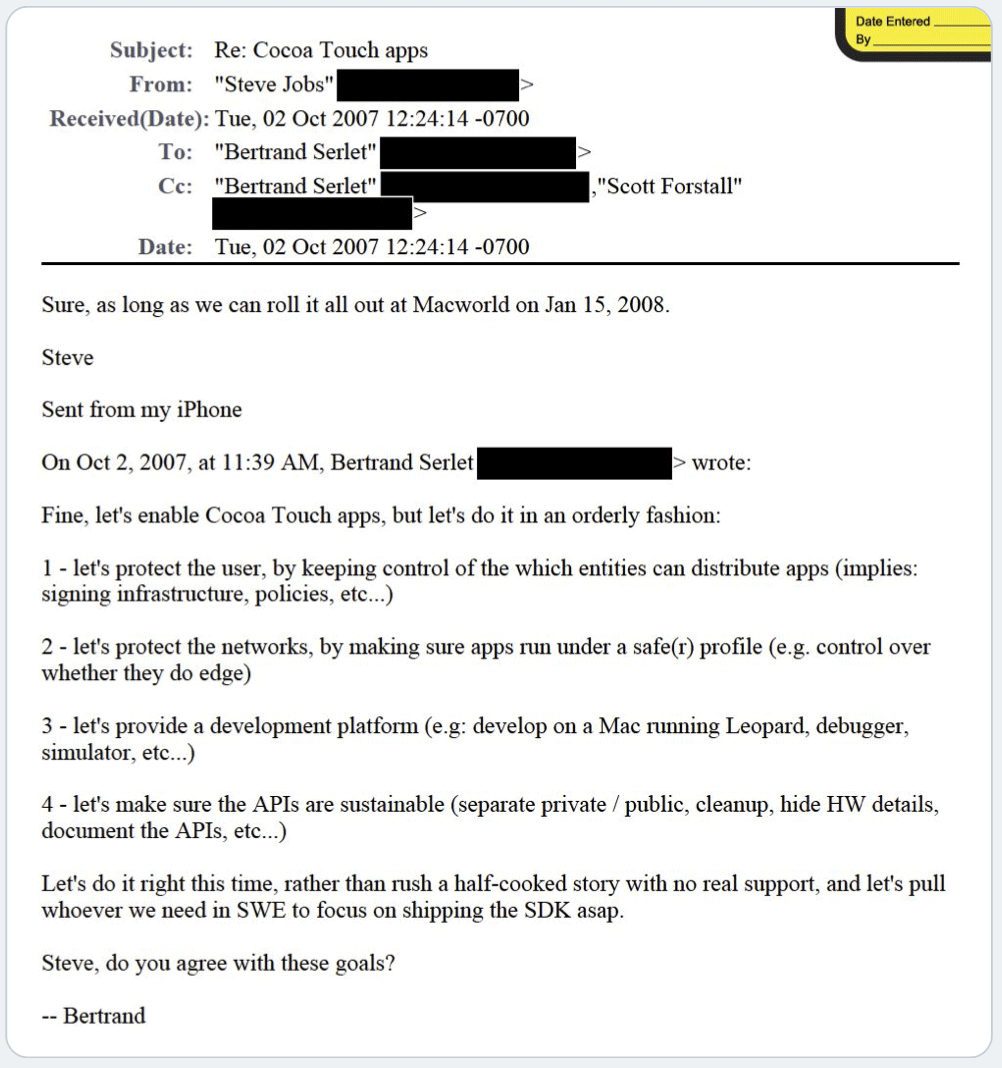 Crisp, lean communication that does not coddle or equivocate, coupled with a leader that is confident in their own ability and the ability of those that they hired means that there is no need to bog down the process in order to establish a record of involvement... This efficacy is at the core of what makes Apple good when it is good. It's not always good, but nothing ever is 100% of the time and the hit record is incredibly strong across a decade's worth of shipped software and hardware. ..
All in all, this exchange is a wildly important bit of ephemera that underpins the entire app ecosystem era and an explosive growth phase for internet technology. And it's also an encapsulation of the kind of environment that has made Apple an effective and brutally efficient company for so many years.
My take: Loving the stuff that got shaken out by discovery. Kudos to those searching through it.