From Antonio Garcia Martinez's "Chaos Monkeys," quoted in a letter circulating among Apple employees who want him gone. UPDATE: He's gone.
Taken, with my strong warning, from The Verge: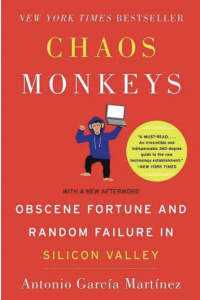 If you had been standing on the corner of Broadway and MacArthur Boulevard in Oakland the night of March 7, 2010, you would have seen a curious sight. A heavily pregnant woman, bent over in pain and scarcely able to walk, was being half carried, half dragged across the street by a tall, goateed man. The woman could barely stand, and needed to pause and cling to either the man, or any fixed object, as they struggled across the last couple hundred feet. Every ten paces or so, the woman would double over and gasp in pain, bringing everything to a halt. The man was simultaneously trying to check for traffic, keep his female companion from collapsing, tow a large suitcase, and navigate the whole lurching ensemble toward the emergency room door. That goateed man, gentle reader, was me. The woman was a former City of London derivatives trader. She was thirty-seven weeks pregnant. We had known each other for thirty-nine weeks. Let's rewind before we fast-forward again. "Life is what happens when you're making other plans." If you ever run across an online dating profile with the above as a tagline, be aware you're in for one fucking life-changing date. I had found British Trader's profile while searching for the keyword "sailing." Thematic searches (e.g., "physics," "PhD," "beer") were my way of finding some iota of common ground with which to structure an introductory message. At the time, online dating sites distinguished themselves mostly by the demographics of their members. Craigslist was for escorts, fat chicks in Fremont, and serial killers. OkCupid was for penniless hipster chicks who lived in shared flats in the Mission. Match.com was for professional women busy with the time-honored tradition of husband shopping. Choose your audience, and write your ad copy. Mine was heavy on the sailing and outdoor adventuring. Zero mention of diaper changes and daycare drop-offs. Truth in advertising, more or less. She had vaguely Slavic-looking cheekbones and feline eyes. Her Match profile photo featured her at the tiller of a boat, which instantly quintupled her attractiveness. Message led to dinner date. Dinner date led to an opera outing. One early Friday evening, dressed in her corporate finest, she appeared unannounced at the boatyard. My twenty-six-foot sloop Moksha was hauled out on land, and I was busily refitting it for serious offshore sailing. Covered in dust and grease, I welcomed her to my boat. She climbed up the precarious twelve-foot ladder to Moksha's deck, which towered over the ground due to the boat's deep keel. Then, a romantic reversal. The following weekend, a tall, rangy guy put his boat next to mine in the yard. A strapping and strutting South African, he walked over and we started talking boats. We got along famously, and continued our unending string of boat talk with beer and pizza at the local red-and-white-tablecloth Italian place. He was, as fate would have it, British Trader's ex-boyfriend, who had recently and unceremoniously dumped her. This business was serious. As I'd eventually learn from British Trader, they had tried having a child despite never marrying. Their inability to conceive had convinced British Trader she was barren. He and I ended our boozing and bullshitting and got back to work on our respective boats. As I was painting the bottom, I looked over and saw some hot chick talking to my new South African friend. I saw only her jeans-clad ass. Given my as-yet noncomprehensive knowledge of her anatomy, I didn't recognize her. Of course, it was British Trader, stopping by the yard to check randomly on my progress. Given there was only one large boatyard for serious refitting in the East Bay, meeting her recent beau wasn't a completely improbable coincidence. Weirded out by my bonding with her ex, she decided to end the budding romance. But then a week later she changed her mind. I had brunch with her and her female confidante. On my finest social behavior, I passed muster with her friend. The next invitation was dinner at her house. When I appeared on her doorstep with a bottle of wine and a smile, she opened the door conspicuously made up, perfumed, and in a fetching dress. The moment that door swung open, I knew I had her. The contemporary honeymoon of a several-week fuck- fest, consummated at the start of a new romantic liaison, played itself out comme il faut. No surprises really, other than British Trader's taste for being physically dominated in bed, a bit of a surprise given her alpha-female exterior. To a woman, every girlfriend of mine has been intelligent, ambitious, and independent. Until very recently, all were vastly more successful and wealthier than me. And yet, come the pressing hour of physical need, so unfolded the countless boudoir scenes recalling Fragonard's Le Verrou: a ravished chambermaid, half resisting and half yielding, violently seized in the arms of her predatory lover, who slams shut the bolt on the bedroom door. The backdrop to the tryst turned relationship was a modest bungalow fixer-upper that British Trader had bought, taking advantage of a corporate relocation package.
She made Bob Vila of This Old House look like a fucking pussy. She had ripped out the ornate and custom built-in shelves and display case from one room and installed them in another. The flooring was down to the planking, to be redone in fresh hardwood (by her, with a nail gun and lots of patience). The only room that was even remotely livable was the kitchen (which featured beautiful hardwood counters that were regularly oiled). Her bed consisted of a cheap foam mattress about the width of an extra-jumbo-sized menstrual pad inside a room stripped to the wall studs. The floor was dusty with drywall powder from the demolition, and postcoitally, it was all I could do to balance myself precariously on the edge of the pad and off the drywall dust. Morning showers were in the one functioning bathroom, whose empty window frames were covered in plastic. A molded plastic shower in the corner and a lonely-looking white porcelain toilet were the only signs of civilization in what appeared to be the inside of a garden shed. The scene of conception was either the aforementioned foam pad, or the hardwood kitchen counter. Two generations ago, her branch of the family, moneyed Jews in czarist Russia, had seen the revolutionary writing on the wall and had fled to the United Kingdom. Another branch moved to China and became an established trading family in Harbin. In Britain, the family made the unlikely transition to landed gentry, and ran a farm in Bedfordshire. A great-uncle was elevated to the peerage, and a second cousin shared the Nobel Prize with Alexander Fleming for penicillin. When she was in her teens, her father decided to move the family to the United States, where they suffered a financial reversal she was unwilling to talk about. Suddenly not among the moneyed class, she hustled herself through the redbrick boondocks of the University of Vermont. Citibank internship led to Deutsche Bank job, and after a few years she was an equity derivatives trader at Deutsche, holding her own against the toff sharks of the City of London. She had wild green eyes, with unnatural red spots in her irises when you pulled close, reminiscent of that Afghan girl from the National Geographic cover. Her personality was flinty and rough, and as leathery as her skin. She had spent years between various jobs backpacking around the rougher parts of the world. She was an imposing, broad- shouldered presence, six feet tall in bare feet, and towering over me in heels. Most women in the Bay Area are soft and weak, cosseted and naive despite their claims of worldliness, and generally full of shit. They have their self- regarding entitlement feminism, and ceaselessly vaunt their independence, but the reality is, come the epidemic plague or foreign invasion, they'd become precisely the sort of useless baggage you'd trade for a box of shotgun shells or a jerry can of diesel. British Trader, on the other hand, was the sort of woman who would end up a useful ally in that postapocalypse, doing whatever work—be it carpentry, animal husbandry, or a shotgun blast to someone's back— required doing. Long story short, you wanted to tie your genetic wagon to the bucking horse of her bloodline. Which is why I was less nervous than I should have been on a random Saturday in July, when I showed up for a brunch appointment and found her uncharacteristically moody. She complained of feeling nauseated and slightly out of it. With perhaps too much offhandedness, while grabbing the local newspaper off her couch, I suggested, "Well, perhaps do a pregnancy test." Like any male who's played it fast and loose with the safe-sex rules, I'd had my fair share of scares. I was on season four of the show whereby tear-filled woman X shows up two weeks after the shag saying she had "missed her period" (sort of in the same way I'd say I "missed my bus"). Nothing had ever come of it, and after the third showing you just wanted to say, "Look, woman, unless you've got a screaming infant in your arms and it looks like me, we have nothing to talk about." She'd have both soon enough. "Well, I did go to the doctor," she replied instantly. Things took on a rather portentous air for a casual Saturday-morning brunch. "Ah . . . and?" "I am pregnant." BAM! A human life. Shit, I thought. I could hear God laughing in his vaulted hangout. Life is what happens when you're making other plans indeed. By her account, British Trader had broken into tears on hearing the news from her doctor, whom she had gone to see on some routine visit. Yeah, that old story. One look into her hard, green eyes, and I knew this kid was seeing the light of day. Due more to some residual Catholic guilt and Hispanic chivalry than true love for British Trader, I sublet my one-bedroom bohemian pad in the Mission, which had followed my hippie-chick household, and moved into her home turned construction site. I'd make a go of this domesticated parental life. If you jump into the abyss, jump headlong.
My take: Soft porn is not really Apple's brand.
See also: Apple picks up Facebook's beans-spilling adman
UPDATE: Garcia Martinez has been fired.
Ex Bloomberg: Apple says "we have always strived to create an inclusive, welcoming workplace where everyone is respected and accepted. Behavior that demeans or discriminates against people for who they are has no place here."