Apple's App Store revenue in April was softer than she expected -- except in Asia.
From a note to Morgan Stanley clients that landed on my desktop Tuesday:
Tweaking our Apple Services estimates post-April App Store data. While our bullish outlook on the long-term opportunity for improving App Store monetization is unchanged, we are now incorporating a slightly lower App Store net revenue growth rate in the near-term to account for softer than expected April 2021 App Store net revenue growth. Overall, we now assume the App Store grows 11% Y/Y in the June quarter, down from +19% Y/Y previously, which implies that following April 2021 reported App Store growth of 16% Y/Y, the App Store grows 7% Y/Y in May 2021 and 10% Y/Y in June 2021. We keep the remainder of our Apple Services segment assumptions unchanged, which drives our June quarter Services forecast to $16.46B (+25.1% Y/Y), from $16.90B (+28.4% Y/Y), which is still 140bps above consensus of $16.23B (+23.4% Y/Y).
Our price target of $161 remains unchanged as our slightly lower Services revenue base is offset by Services peer multiple expansion, and implies 31x our new FY22 EPS of $5.17 (vs. $5.20 previously)...
App Store monetization continues to reach new highs. We estimate that Apple generated $0.78 in net revenue per app download during the month of April, up 5.3% M/M, 120bps faster than the trailing 5 year (ex-COVID) seasonal average, reaching an all-time monthly record. In fact, in 35 of the 95 markets we track, net revenue per download, which we use as a proxy for App Store monetization, reached an all-time monthly record in April 2021. Gaming, which represents 62% of App Store spend and where net revenue per download reached $1.81 in April remains the ballast behind strong App Store spend, but categories such as entertainment, books and music were the primary contributors to increasing App Store monetization in April.
Maintains Overweight rating and $161 price target. 
Cue Exhibits 1 and 2: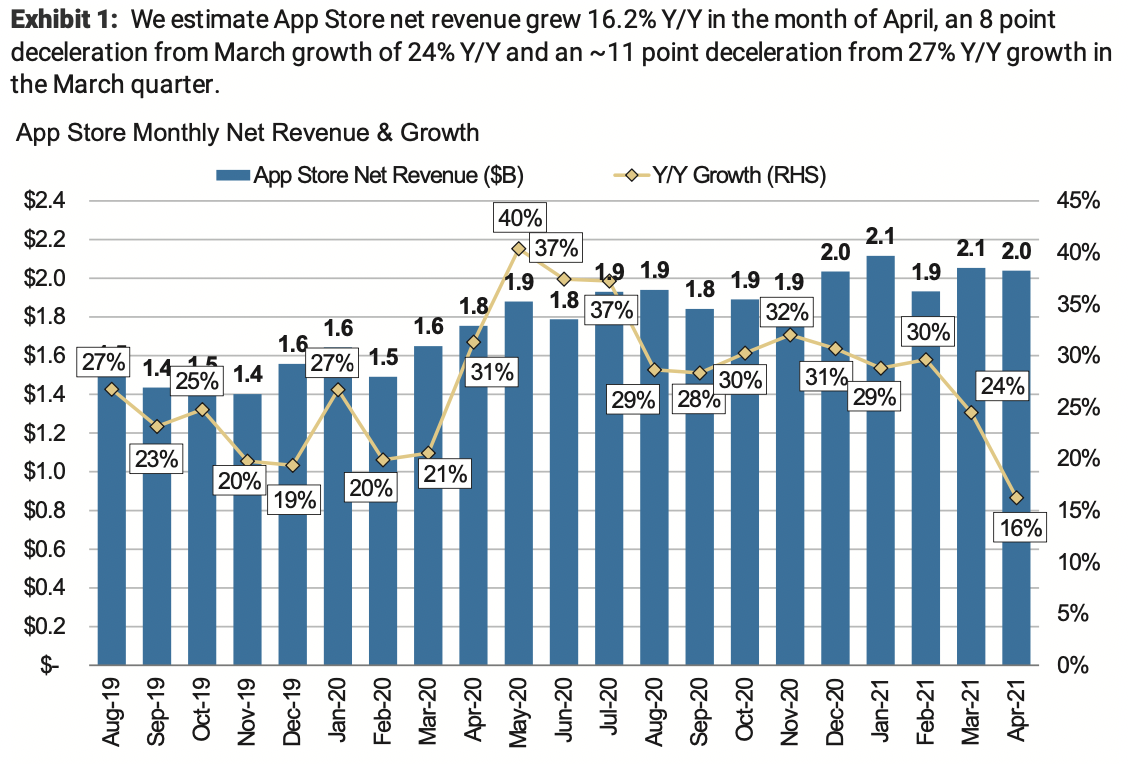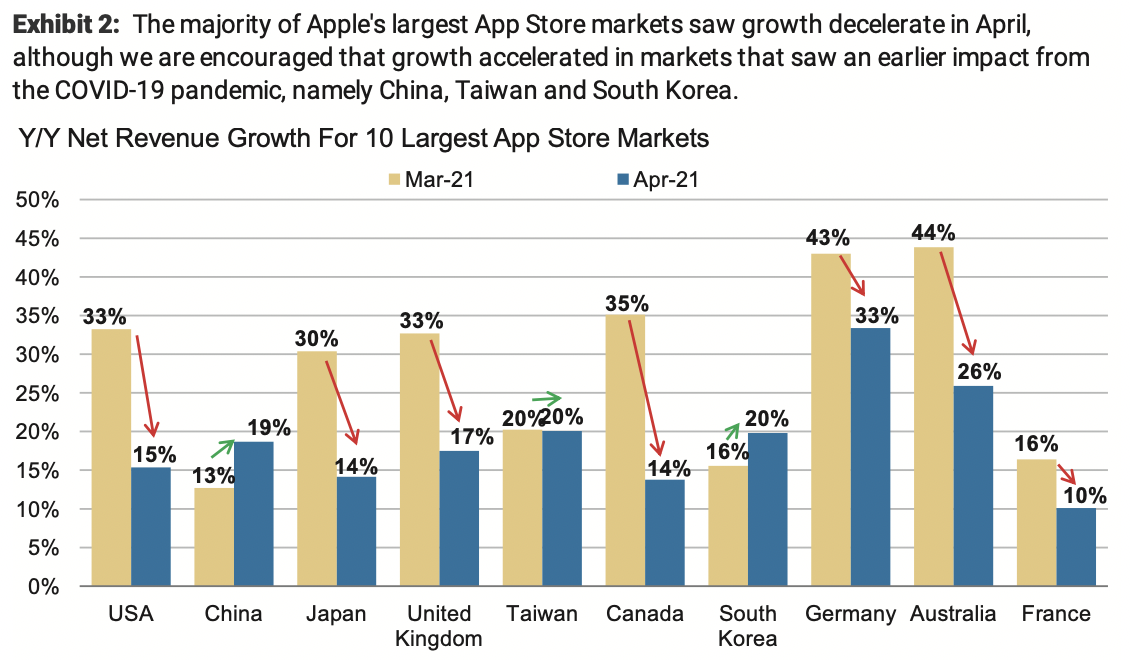 My take: Just a tweak. She makes a point of sticking with her price target.