It's just Apple, says analyst Toni Sacconaghi.
From a note to clients Friday that landed on my desktop Sunday:
Following an extraordinary year in 2020, AAPL has underperformed the S&P year to date by 980 bps. While there has been a broader market rotation to value from growth, AAPL has underperformed both the value and growth indices, as well as the NASDAQ and other FAAMG stocks. By contrast, several IT HW stocks within our coverage have notably outperformed.
All of AAPL's underperformance has occurred since Apple reported earnings on Jan 27th, despite the fact that Apple reported a very strong quarter – in fact, among FAAMG stocks, Apple's recently reported Q1 had the strongest revenue beat, and forward 12-month revisions were largely in line with other FAAMG stocks.
Several investors have suggested that Apple's weakness is attributable to increased short interest in large cap tech names and indices following the Reddit/GameStop short squeeze. The disparate performance in FAAMG stocks since then suggests to us this is not the case, and that Apple's move has been driven by largely stock-specific factors.
So why has AAPL's stock been so weak year-to-date? We believe it is being driven by two considerations: (1) Significant relative multiple expansion (51%) in 2020 which has left the stock at very elevated valuation levels vs. its recent history; and (2) a perceived lack of catalysts/more limited likelihood of significant revisions going forward.
Should investors look to go overweight in the coming months? Over the last year, AAPL has followed its traditional historical seasonal pattern of outperforming meaningfully in advance of iPhone product releases, and not outperforming thereafter. Accordingly, should investors look to follow the pattern, and go overweight in the coming months? We think not yet – AAPL's multiple is still rich vs. history, Apple will be facing very strong iPad & Mac comps in 2H, and next year's iPhone cycle will likely not offer compelling new functionality.
Maintains Market Perform rating and $132 price target. 
Cue Exhibit 1: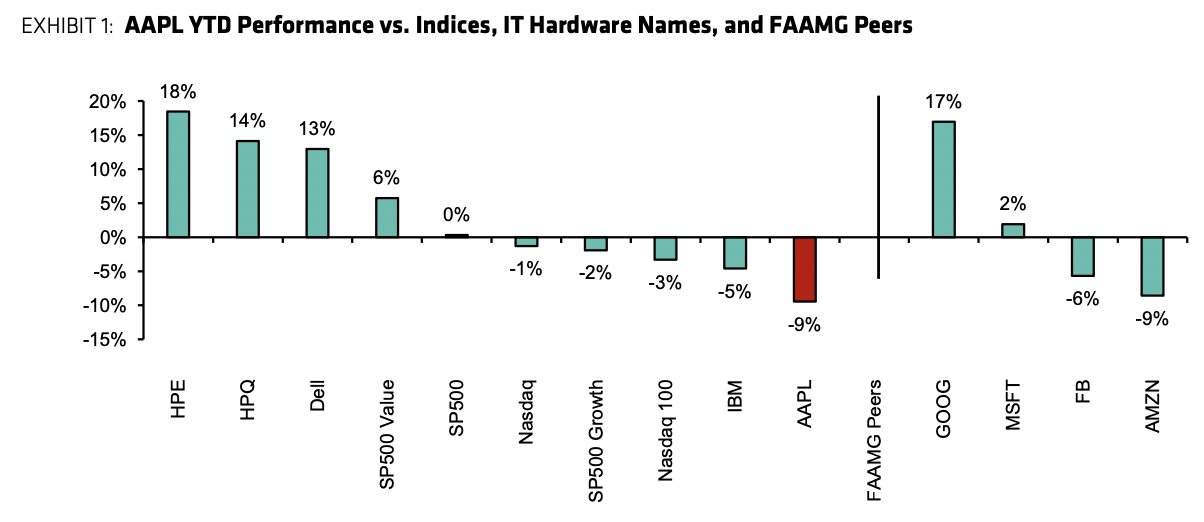 My take: Relatively even-handed, I'd day. For the CNBC version, click here.