Found on Quora. Can't vouch for any of it.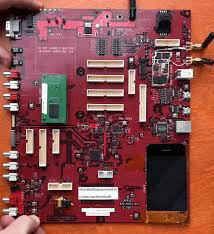 Posted by Franklin Veaux in response to "What is a fact that you know about Apple products that most people don't know?"
Apple prototypes use red circuit boards. You can instantly tell if some weird Apple device is a prototype by the color of the circuit board.
Steve Jobs was famous for never carrying his keycard at the Apple campus, and having to wait for someone to let him in the doors. I once spoke to an Apple engineer who had just gotten the last cookie at the Apple cafeteria when Jobs knocked on the door. He went to let him in and when he came back, someone had stolen his cookie—something he was still annoyed about years later.
Development and manufacturing times are long. The day Apple releases a new gizmo, its replacement is already running in prototype form and the replacement for that is being designed. This kind of aggressive development is necessary if you want to keep up in tech (the fact that Commodore didn't do this is one of the many reasons the Amiga failed).
The red circuit board above, according to Veaux, was an iPhone prototype.
My take: What can I say? I started with "What's Quentin Tarantino like in person" and fell into a deep hole.