"Our negative thesis on Apple is based on ASPs remaining roughly unchanged in 2021" — Analyst Rod Hall
UPDATE: See Goldman Sachs 'corrects' yesterday's Apple price target change
From a note to clients that landed on my desktop Thursday evening:
We expect Apple to report and guide well for FQ1 and FQ2 given consumer demand indications have been better through the holiday season. These solid consumer demand indications combined with likely strong continued WFH and SFH [work and study from home] related Mac and iPad demand helped by the launch of M1 Macs cause us to increase our numbers for Apple's FQ1 and FQ2.
We also note the possibility for shorter term positive demand impact for iPhone in China driven by Huawei's inability to produce phones.
On the other hand, we note here that Apple has already begun cutting iPhone orders and our checks also suggest a tilt toward lower ASP models in the most recent H1'21 build order revision. These changes are consistent, in our opinion, with a normal iPhone redesign cycle but are not consistent with a Super Cycle.
As a result we continue to expect iPhone replacement rates to resume their ongoing decline in 2021 and this drives our below consensus forecasts for the year and particularly for H2'21.
In addition, our negative thesis on Apple is based on ASPs remaining roughly unchanged in 2021 as consumers shift toward lower priced iPhones and this seems to be beginning to play out in supply chain orders. We believe the shift of consumer disposable income toward vacations, restaurants, and other outside of the home spending as re-opening occurs is likely to act as a negative catalyst for Apple's stock just as COVID lockdowns represented a tailwind.
Maintains Sell rating, raises price target to $85 from $75.
Cue the price-target history: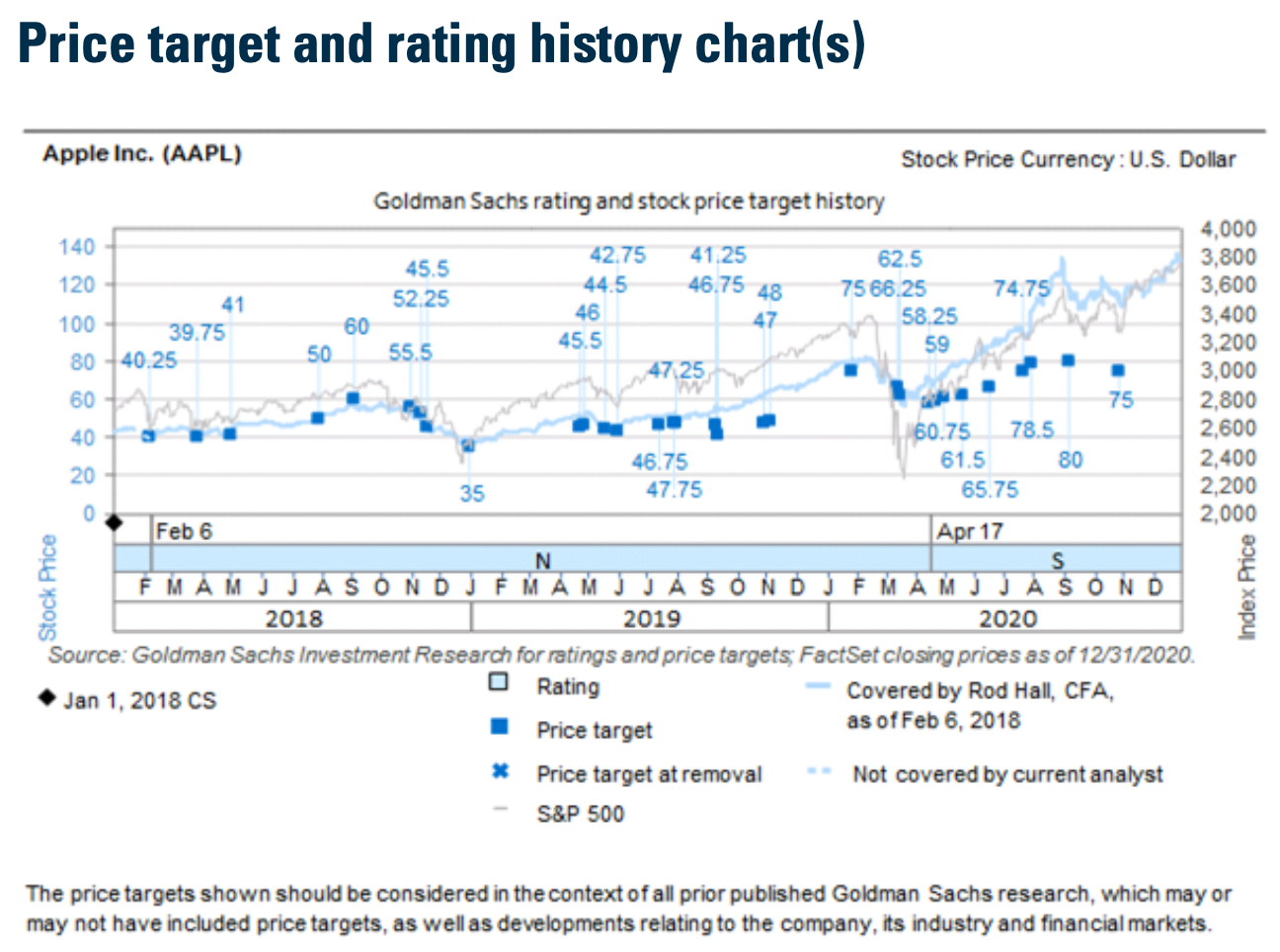 My take: A grudging acknowledgement of "solid consumer demand." Why Goldman Sachs continues to hold Apple in such bad odor is a mystery to me.