Stock futures turned slightly lower in early trading Tuesday after the market scored its best session in six weeks a day earlier on rising optimism about a coronavirus vaccine.
Futures on the Dow Jones Industrial Average implied an opening loss of about 100 points, after moving more than 200 points higher in after-hours trading Monday. S&P 500 and Nasdaq 100 futures were also lower.
The overnight action followed a strong rally on Wall Street that saw the Dow and S&P 500 both enjoying their biggest one-day gains since April 6. Investors cheered news that an experimental coronavirus vaccine from Moderna showed promising early signs. The 30-stock Dow jumped more than 900 points, while the S&P 500 closed the day up 3.2%, hitting its highest level since March 6.
My take: Results from a Phase I human trial only go so far.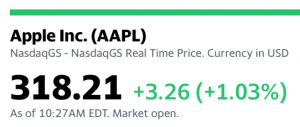 UPDATE: Dow is down, Apple is up in early morning trading.
UPDATE 2: The market fell off a cliff in late afternoon trading.
Stocks dropped do their lowest levels of the day following a report from Stat News that the Moderna vaccine for Covid-19 might not be as effective as some think. The report, which cited several vaccine experts, said that based on information that Moderna has released there's no way to determine the efficacy of the drug. The Dow briefly traded more than 200 points lower before paring losses. Moderna was about 9% lower after earlier falling more than 12%. The market's rally has in some part been tied to the latest developments surrounding a coronavirus vaccine. Stocks jumped on Monday due to hopes from the Moderna trial.
My take: Live by preliminary results, die by preliminary results.