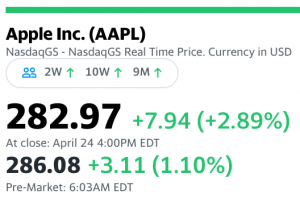 From TheStreet's "Dow Futures Gain as Investors Track Economic Re-openings, Central Bank Stimulus: Apple Earnings Highlight Key Reporting Week":
U.S. equity futures bounced higher Monday, while global stocks booked solid gains in markets around the world, as investors reacted to a massive stimulus push from the Bank of Japan and suggestions that key parts of the domestic economy could re-open in the coming week.
New York Governor Anderw Cuomo told reporters in Albany Sunday that a phased re-opening of the state's economy could come as early as May 15, while other states around the country have either eased certain outdoor activity restrictions or set out plans for the gradual re-start of jobs, businesses and public schools...
Futures contracts tied to the Dow Jones Industrial Average, which has gained 8.5% so far this month, suggest a 205 point opening bell gain for the 30-stock average while those linked to the S&P 500 are guiding to a 25 point advance for the broader benchmark.
Corporate earnings are likely to be in focus again this week, alongside the grim calculation of coronavirus death and infection rates, with some 169 S&P 500 companies expected to report quarterly profits this week, including heavyweights such as Apple  (AAPL) - Get Report, Microsoft (MSFT) - Get Report, Amazon  (AMZN) - Get Report and Facebook  (FB) - Get Report.
My take: From the same item...
The modestly positive movement belies data that still suggests coronavirus cases are accelerating -- 27,600 alone were reported in the U.S. on Sunday, taking the cumulative total to just over 930,000 -- and the fact that a vaccine is still likely many months away.