Wherever analyst Samik Chatterjee looked last week, demand for the budget iPhone was getting ahead of supply.
From a note to clients that landed on my desktop Sunday:
US: iPhone SE lead times triple from Week 1 to Week 2. In the US, delivery-at-home timing extended for the iPhone SE (across most SKUs) from 24 Apr (order on 17 Apr EST) to 12-19 May (order on 24 Apr EST), implying a tripling of the lead time from ~8 days in Week 1 to ~22 days in Week 2. Recall, the US accounts for roughly ~35% of iPhone shipments.
China: immediate pick-up in a physical store but extended delivery-at-home timing: China demand is a critical trial balloon for monitoring the iPhone SE demand, especially where there's a feasibility of pick-up in a physical store... Recall, China accounts for ~15% of iPhone shipments.
Western Europe (Germany & UK): iPhone SE lead times expand modestly from Week 1 to Week 2... Recall, Western Europe accounts for roughly ~15% of iPhone shipments.
India: iPhone SE currently unavailable; however, keeping an eye on given market importance. While the iPhone SE is currently unavailable for ordering in India given tight government restrictions in the country prohibiting the shipment of iPhones as well as many other consumer goods, we believe the market is an important one to keep track of given our view that the iPhone SE is key to Apple's strategy to penetrate lower price tiers of the smartphone market, particularly in emerging markets, like India, with significant growth opportunities. Recall, India accounts for a low-single digit percentage of iPhone shipments.
Cue the chart: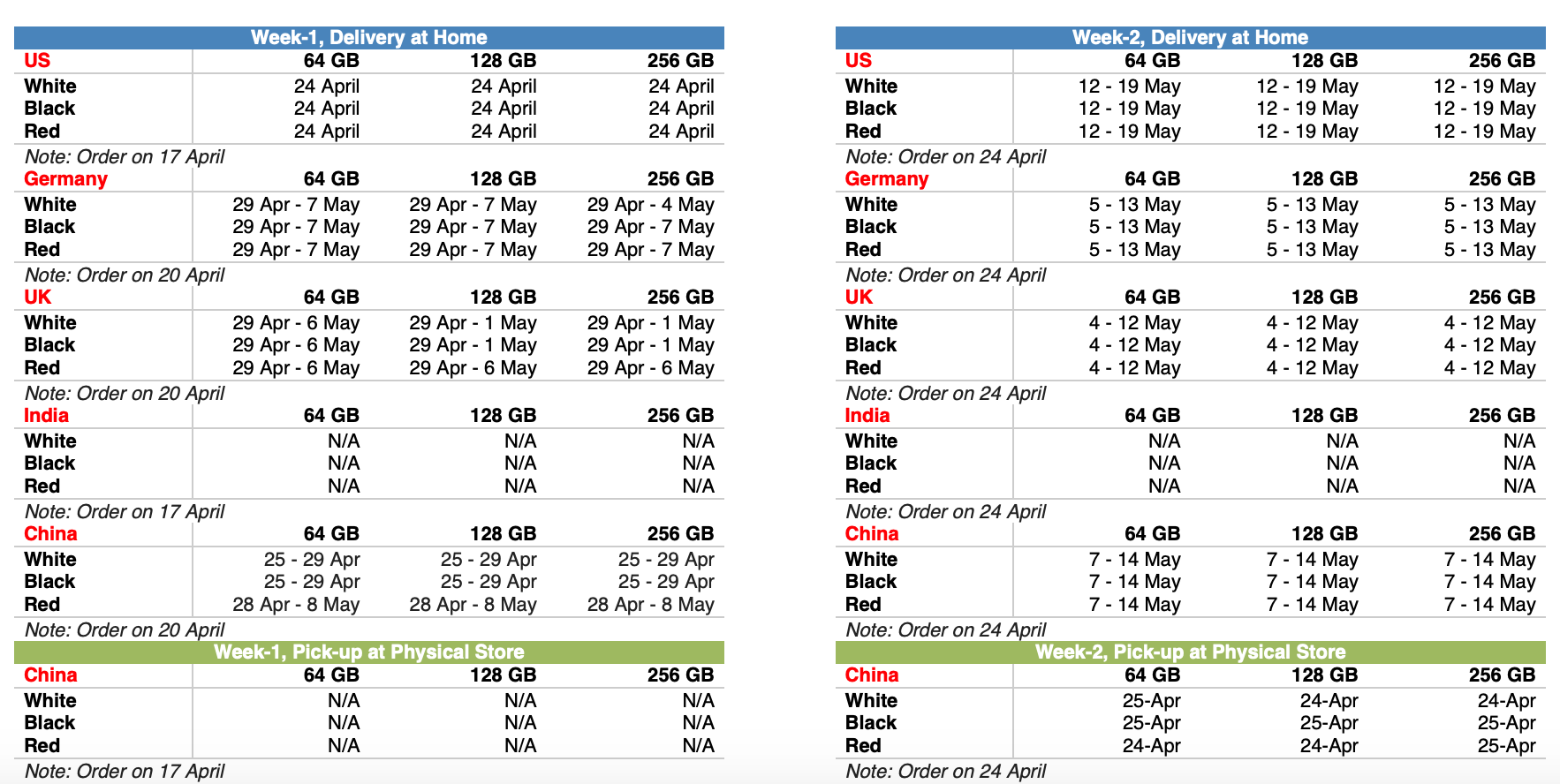 Click to enlarge.
My take: As Chatterjee points out, it's impossible to separate demand from what he calls "logistics."