At the Apple Store I go to for repairs, they use a product called Whoosh!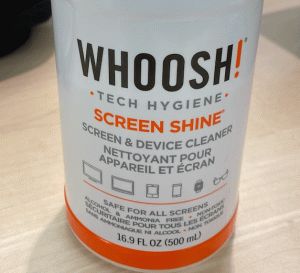 From Joanna Sterne's "Yes, You CAN Clean Your iPhone With Disinfecting Wipes" ($) in Monday's Wall Street Journal:
After years of being told we cannot—and should not—clean our phones with disinfecting wipes, Apple now says you can. My extensive testing over the last few days proves the same.
On Monday, Apple updated its "How to clean your Apple products" website with new wording. Instead of a blanket ban on "cleaning products," the company says it's OK to use a 70% isopropyl alcohol wipe or Clorox disinfecting wipes on the surface of your Apple products.
These types of products are recommended by health and infectious-disease experts for stopping the spread of coronavirus on surfaces.
Apple's website previously said, "Cleaning products and abrasive materials will further diminish the coating and might scratch your iPhone."
My take: My MacBook Air has been wiped down by Geniuses twice in the past two weeks. The second time I snapped a photo of the product they recommend.