Amazon, Netflix and Hulu have all achieved relative parity between their critical and popular scores on Rotten Tomatoes. But Apple, judging from its first small handful of original releases, has possibly won over the latter at the former's expense. Maybe it's too soon to tell: this data, pulled in December, only examined 11 shows compared to the dozens or hundreds for the other services. But Disney+ only had six original programs at the time of this analysis, and no such chasm emerged. It's hard not to anticipate the production teams at Apple wincing at the fairly round critical rejection of its marquee series, The Morning Show, after all the "For Your Consideration" posters plastered around Hollywood bus stops to try to win it an Emmy nomination. The opposite dynamic held true for critical darling HBO, whose programs not named Game of Thrones have for years dazzled critics while often failing to find wide audience bases.
Cue the chart: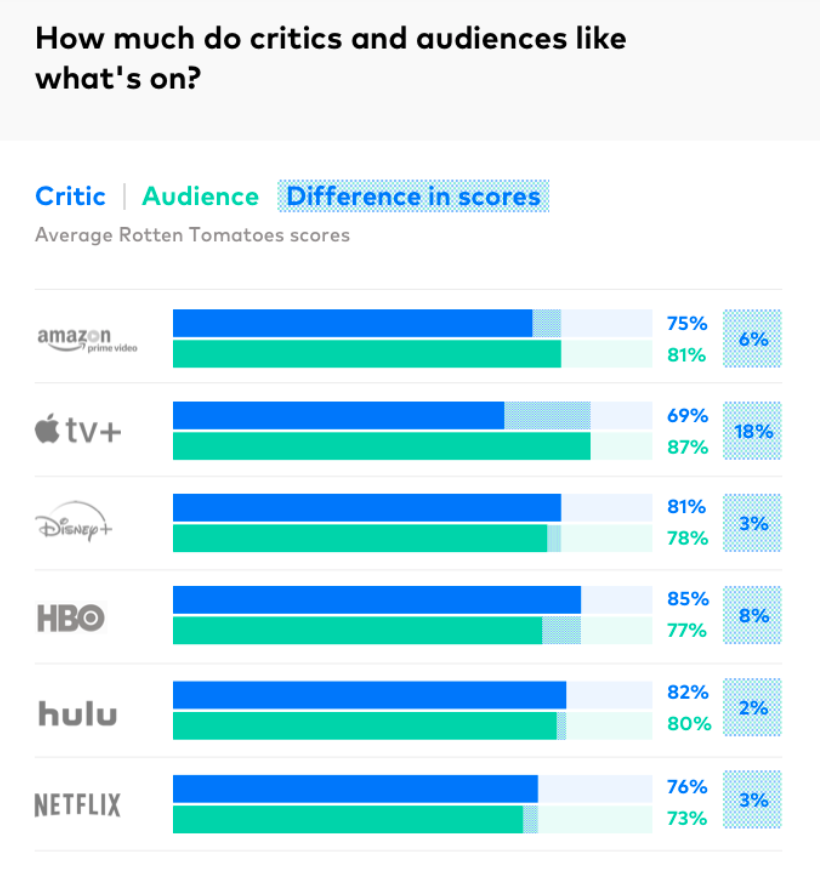 My take: Friends of the blog will recognize the phenomenon. To quote Mimi Leder, who directed The Morning Show:
I just felt there were a lot of Apple haters and wanting Apple to fail. The reviews very much felt like an attack on Apple.