Americans bought fewer than 2 million 5G phones in 2019, roughly 1% of the total smartphone market.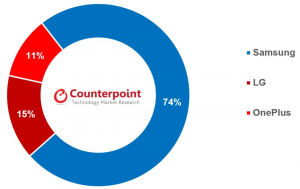 From Counterpoint's "Samsung Captures 74% of the 5G Smartphone Sales in 2019 in the USA":
According to the latest Monthly Smartphone Model Sales Tracker, Counterpoint Research estimates the US market sold under two million 5G NR capable smartphones during 2019 in its first year of the rollout. This only represented 1% of total smartphone sales in 2019. Samsung was the clear leader capturing 74% of the total sales during the year. The Samsung Note 10 Plus 5G was the best-selling 5G smartphone in the USA in 2019.
Speaking about the muted demand in 2019, Jeff Fieldhack, Research Director at Counterpoint Research highlighted, "5G smartphone sales were below expectations in the US in 2019 due to multiple reasons. Verizon, the early mover, led with mmWave-only 5G smartphones while AT&T and T-Mobile took a hybrid approach. While Verizon rolled out mmWave in 31 cities it was not overly aggressive pushing consumers to a limited 5G portfolio. AT&T decided it was too risky to sell mmWave-only devices to consumers and sold only via limited business channels. T-Mobile's mmWave 5G network was only available in six cities with its sub-6GHz 5G coverage being turned on very late in Q4 2019. However, this should change in 2020, as low-band 5G coverage is quickly rolled out."
My take: After the hyperfast build-up, how could 5G smartphone sales be anything but "below expectations."