Each month adds or subtracts 7.5 million units, says analyst Amit Daryanani.
The iPhone replacement cycle is the most commonly discussed Apple data point along with services growth, but we think install base growth should be the KEY metric to focus on.
We estimate replacement cycle for iPhone users has grown to ~39months (each month adds/subtracts ~7.5M units). Despite the longer replacement cycle and declining unit sales, iPhone install base continues to grow with Apple noting it currently stands at ~900M.
Our analysis implies a new iPhone install base of ~650M, indicating there are ~250M used iPhone users. We think the base of used buyers has doubled from ~125M in 2015 as both carriers and Apple have pushed more favorable trade-in plans and new iPhones have become more expensive.
We see a robust used market as a positive for new iPhone sales as it supports demand for new phones by enabling better trade-in offers, while also bringing new users into the ecosystem – eventually bolstering the services and wearables narrative. Net/Net: We think sustained growth in install base (900M+ counting), limited churn and high engagement rates are key to ensuring AAPL can continually monetize their 900M+ iPhone install base via both services and wearables assets.
Maintains Outperform rating and $253 price target.
Cue the chart: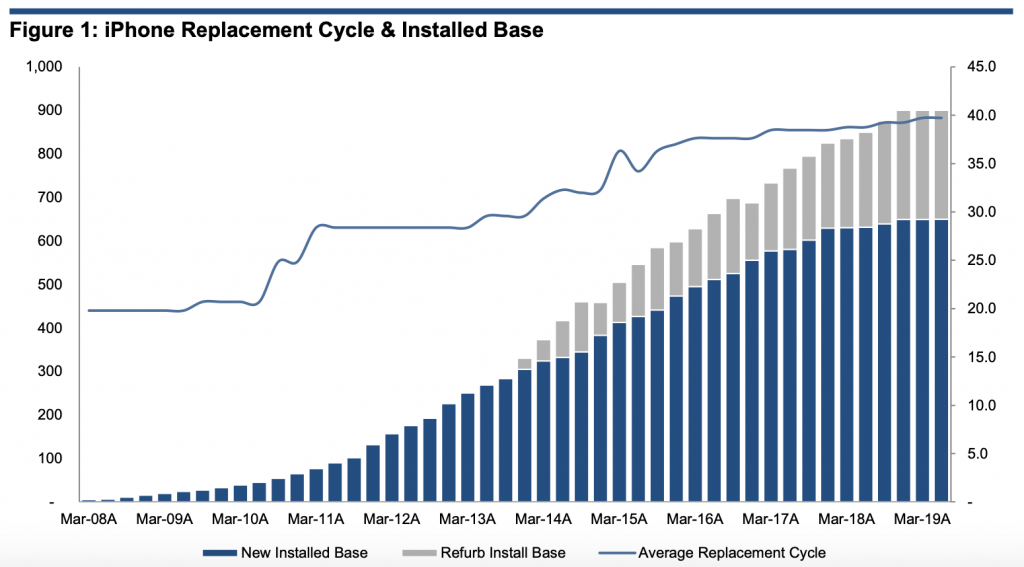 My take: Keep your eye on the grey bars.