From a note to clients by analyst Samik Chatterjee that landed on my desktop Friday:
iPhone Supplier Tracker: Quarterly supplier revenue trend accelerates; improving confidence in our full year shipment forecasts. On a quarter-over-quarter basis, aggregate revenues rose by +7% q/q in C2Q19 (vs. -38% in C1Q19), which compares to a -2% q/q decrease the suppliers have seen historically going from C1Q to C2Q. On a year-over-year basis, aggregate revenues rose for the tenth consecutive quarter and accelerated to +8% y/y in C2Q19 from +2% in C1Q19. The strong historical correlation between our iPhone Supplier Tracker and iPhone revenue growth (see Figure 3) leads us to conclude that iPhone revenue declines are indeed moderating and drives higher confidence in limited downside risk to our annual shipment iPhones sales forecast of ~183 mn units in calendar 2019...
Methodology: Our monthly tracker aggregates revenue from the most relevant Taiwanese Suppliers with meaningful exposure to Apple, such as Catcher, Genius, Hon Hai, Largan, Pegatron, TPK, Win Semi and Wistron.
Maintains Overweight rating and $239 price target. 
Figure 3, showing Chatterjee's "strong correlation":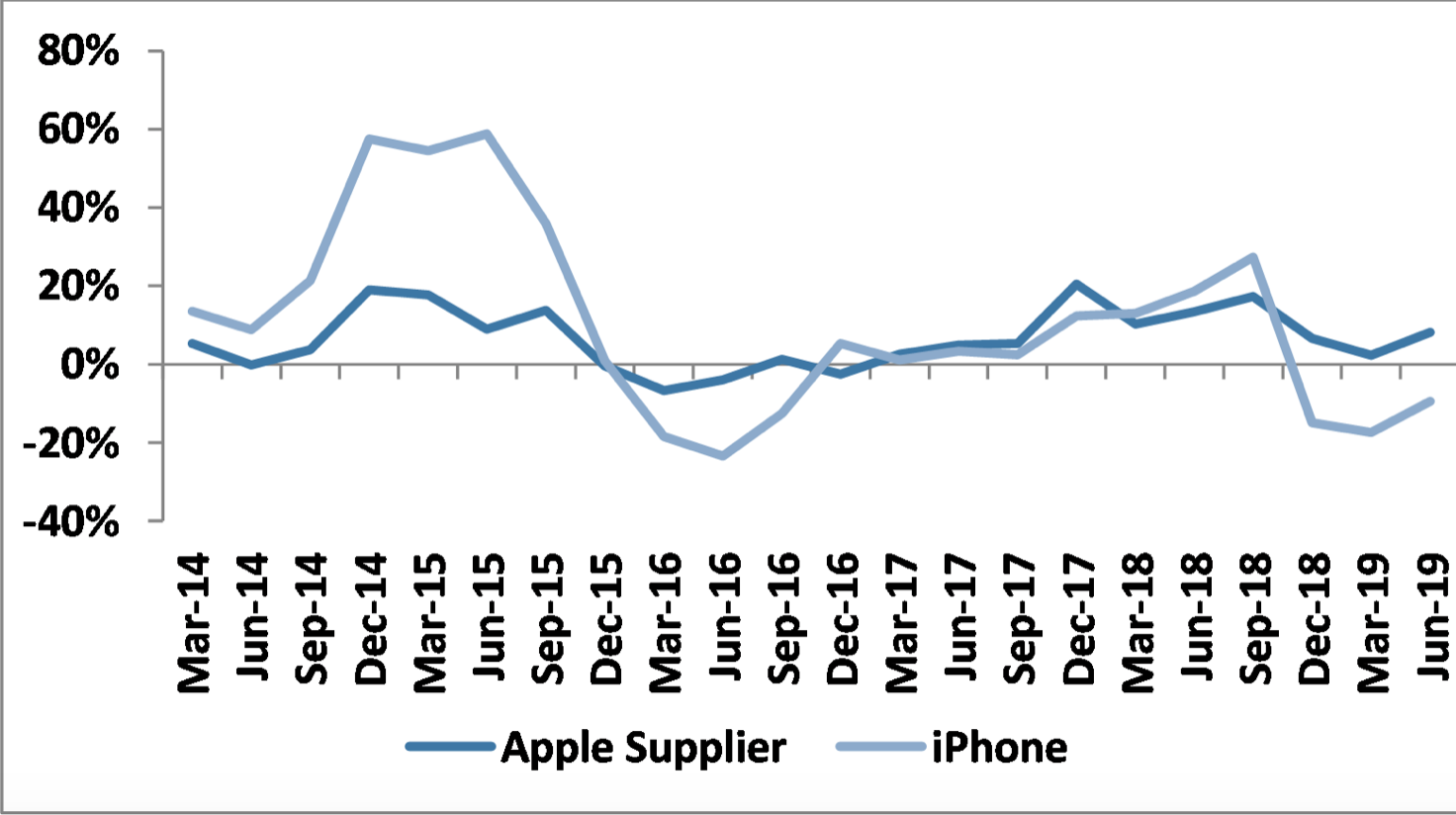 My take: I see that ran the same headline with the same illustration three months ago. Oh well. Moving on.
See also: J.P. Morgan: Apple headwinds abating, April edition.