And at what average selling price (ASP)?
The unit sales estimates of the 18 analysts I've heard from so far—9 Wall Street pros and 9 independents—range from 46 million to 49.6 million, with an average of 47.9 million. Average selling prices (ASPs) range from $709 to $800, with an average estimated ASP of $746.
In other words, unit sales up single digits (2.7%), ASPs up more than 20%.
To put those numbers in context, check out the interactive charts below. Click on the second column to see the year-over-year growth (or shrinkage). Not seeing the first chart? Click here.
Not seeing the second chart? Click here.
Below: The individual analysts estimates, pros in blue, indies in green.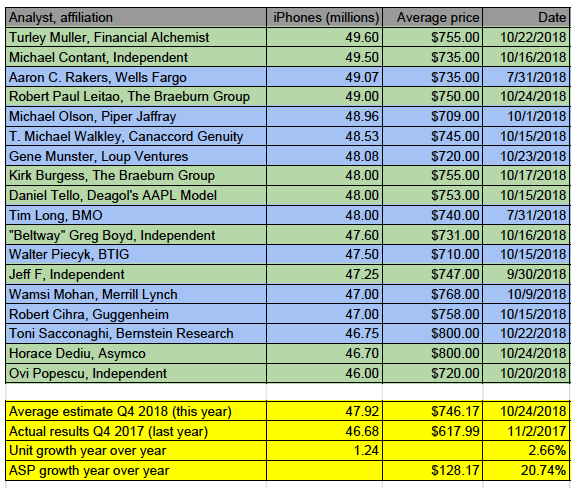 Click to enlarge.
We'll find out who was closest to the mark when Apple reports its earnings next Thursday, Nov. 1, about 30 minutes after the closing bell.