From Counterpoint Research via Daniel Eran Dilger, who snagged it for AppleInsider:
Apple's 62 percent share of profits generated in [calendar] Q2 was far ahead of Samsung's 17 percent, and was over three times the profit share of China's Huawei, OPPO, Vivo and Xiaomi put together. The remaining profits of more than 600 other handset brands amounted to less than 1 percent.
Profits in the industry were overwhelmingly generated by high-end premium models. And while overall demand for smartphones dropped by 1 percent in Q2, sales of premium smartphones (defined as being priced above $400, and accounting for about a fifth of all smartphone sales) actual grew by 7 percent globally.
Using CounterPoint's categories, Apple took 88% of the profit in the high end premium market ($800+), 44% in the midrange and 22% (tied with China's OPPO) in the low premium ($400-$600). Apple only does premium.
Cue the bar chart: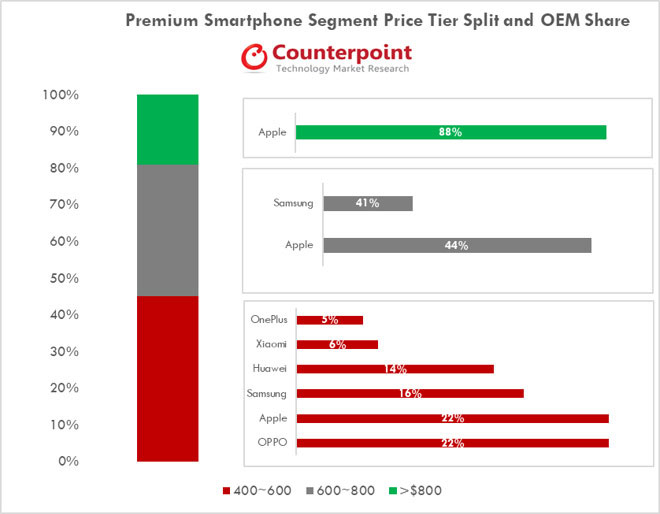 Click to enlarge.
My take: Would be more impressive if Apple hadn't taken 87% last quarter.