From a Counterpoint Research smartwatch report dated last Wednesday, released today:
Apple continues to dominate the smartwatch market with a 41% share. Further, smartwatch makers are looking to add cellular connectivity for standalone use-cases as 90% of smartwatches shipped today are not cellular capable…
Commenting on the best-selling smartwatch models during the quarter, Research Director, Neil Shah, noted, "Despite initial hype and traction of cellular based Apple Watch Series 3 in the first two quarters, Apple iPhone users are actually choosing the Series 1 as a non-cellular option over Series 3 non-cellular model which is surprising to many industry watchers. This also shows, Apple users are choosing Series 3 preferably if they want to add cellular connectivity, else Series 1 remains the most popular model contributing to almost nine out of ten Apple Watch sold in Q2 2018. While this is great for Apple from an ecosystem perspective, from an ASP perspective it is not the same bump as Apple would expect with newer iPhone models every year."
Looking at the different smartwatch platforms, Research Analyst, Flora Tang, added… "The shift to Androidwear OS still hasn't happened like we have seen in Android for smartphones. This is partly due to lesser focus, less intuitive UI and selective smartwatch OEM partnerships by Google over the last few years for Androidwear OS. Google hopes to change this with the upcoming launch of wear OS 2.0 based watches but will need a complete overhaul of the UI, powerful integration of key Android experiences and by striking key partnerships."
Counterpoint's charts: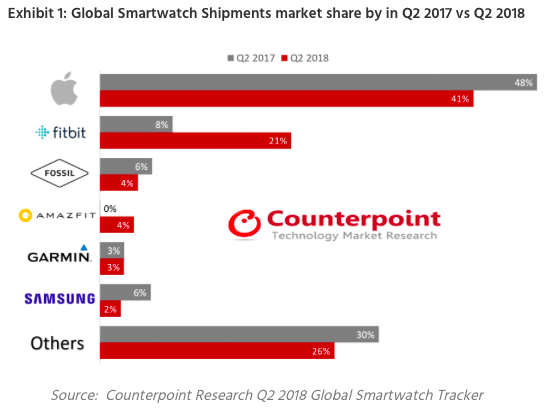 My take: With perfect timing, my Apple Watch Edition 3 died yesterday. Tiny crack in crystal; water damage. Fixable? Worth fixing? See Watch 4 rumors here.