From "Apple Doesn't Do Low Budget," posted Monday by Shira Ovide under the Bloomberg "Opinion" rubric:
Apple's ability to sell the most expensive smartphone in its lineup has been the biggest happy surprise in the company's last year. The average iPhone sale price rose to $758 in the nine months ended June 30 compared with $661 at the same point in 2017. That is testament to demand for the $1,000-and-up Phone X, which Apple says has been the top-selling iPhone model since it went on sale. If its average iPhone sale price had stayed constant, Apple's iPhone revenue would have increased just 0.4 percent so far in this fiscal year. Instead it rose 15 percent.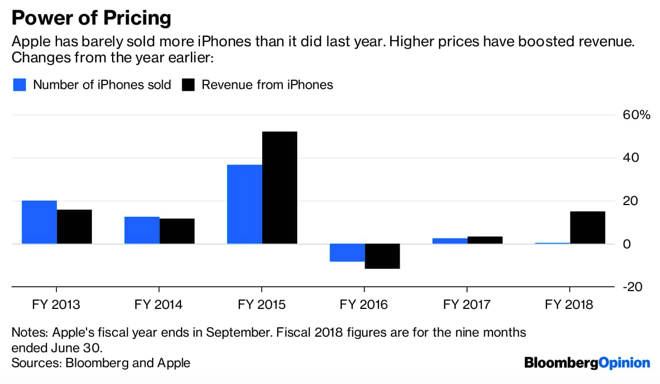 The flip side of the iPhone X's prevalence is the forgettable other 2017 models, the iPhone 8 and its larger-screen sibling, the 8 Plus. Those were the good and better versions, and Apple barely mentions them now.
This fits with a pattern of Apple's relatively low-end iPhones not setting the world on fire. Remember the iPhone SE released in 2016? Apple said at the time that some people wanted a relatively smaller smartphone when most phones were getting supersized. It could have been the iPhone for the masses, but the $399 iPhone SE has been relegated to a niche in Apple's product lineup. The 2013 iPhone 5c was considered a budget alternative at $100 less than the $650 flagship model of the time. It is the Voldemort of iPhones. No one speaks of it.
My take: The Voldemort line is good, but I don't see anything controversial, even new here. Ovide deserves better than the boilerplate caveat at the bottom of her piece:
This column does not necessarily reflect the opinion of the editorial board or Bloomberg LP and its owners.
They don't tag Gurman's pieces like that.