MAV, the pseudonymous author of the occasional AAPLTree blog, shows his math.
How much revenue do Apple's AirPods, Watches and Beats accessories generate? Apple does not serve up that information without a struggle, but eight clues, scattered like breadcrumbs over four quarterly earnings calls, gave Mav just enough information to crack the code. The bottom line is this bar chart: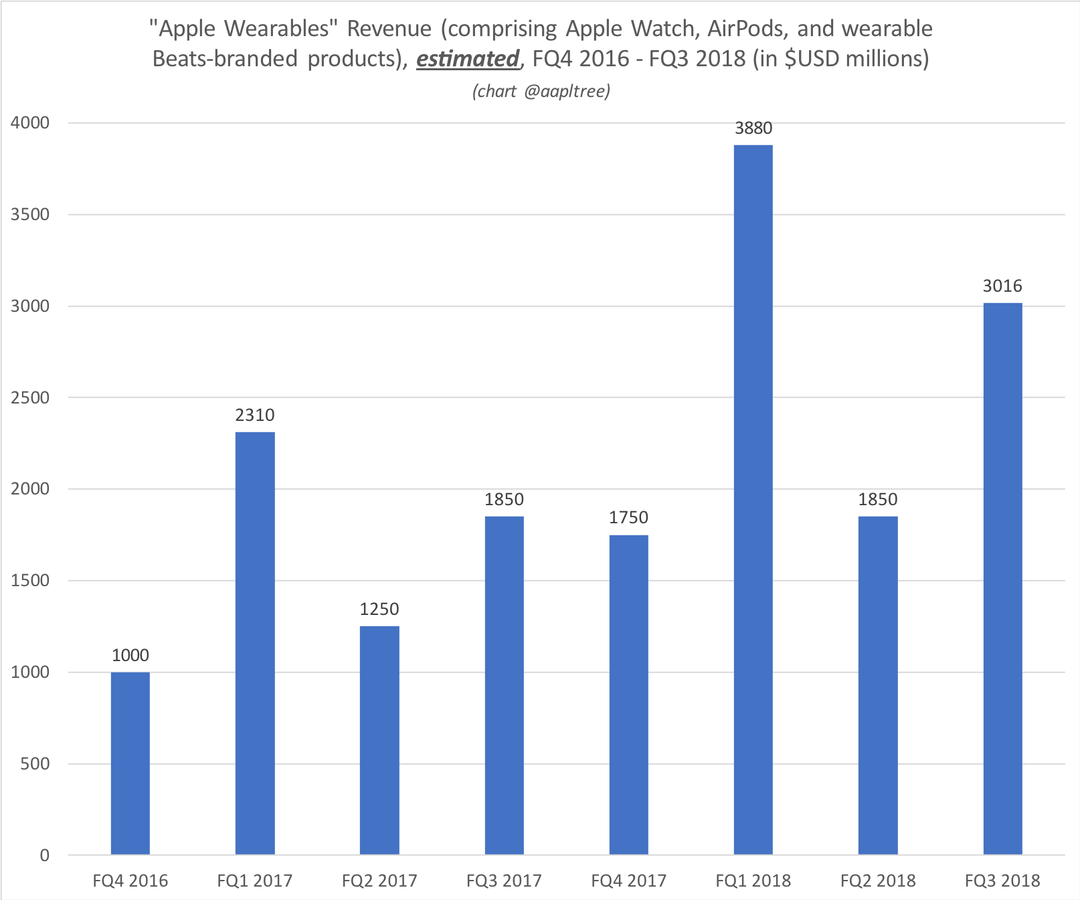 "I know, just a simple revenue chart's kinda boring," writes Mav in today's post, "and seems like an anticlimactic way to end a connect-the-dots Apple financial 'research' post. So, sure, I can throw out some things that jumped out at me and add extra (entertainment) value."
(1) The last eight quarters of Apple Wearables added around $17B of revenue, and the trailing four quarters represent a combined ~60% growth rate over the prior four-quarter period. Not only is that considerably better than the 37% or so combined growth from all of Other Products in that same period of time, it also implies that Other Product Non-Wearables is a relatively unexciting business for Apple in comparison. Yes, it's an extrapolation of an extrapolation with all that implies, but Non-Wearables revenue growth over the same period looks to be mid-single digits, making it abundantly clear what set of products is breathing life into this revenue category.
(2) Apple Wearables, over the trailing four quarters, is approaching two-thirds of Other Products Revenues. "Clue 8" alone was all that was needed to arrive at this conclusion, but it's a fun observation nonetheless given the semi-symmetry with iPhone, which tends to represent more than 60% of total Apple revenues in any given quarter.
(3) Bet you didn't know this one - Apple Wearables, on a trailing-four-quarters basis, has quietly surpassed iPod's all-time annual revenue record: $9.15B, set in FY 2008, if memory serves. It took iPod around seven years from an October 2001 launch to get to that then-unfathomable revenue level as a product family. Meanwhile, Apple Watch has been around for nearly 3.5 years, and the red-hot-selling AirPods are less than two years old. (Beats is tough to get a handle on, but it's safe to say that the Beats wearables line will be directly influenced by - heck, be an extension of - the AirPods suite of technologies headed into the future.)
(4) The presumptive Apple Watch Series 4, with a potential assist from improved/redesigned AirPods sometime down the road, could continue Apple Wearables towards a $15B/year run-rate. That's getting impressively close to the revenue scale of iPad, which is around a $18B-20B annual business for Apple these days.
(5) Perhaps most intriguingly, Tim's provided a separate set of clues related to Apple Watch. Which, combined with somewhat-derivable Apple Wearables data, may yield specific Apple Watch revenue data points, or at least a handy means of spot-checking Apple Watch revenue/unit assumptions if that's your game... Further breaking down Apple Wearables into Watch and Not-Watch is rather beyond my bandwidth at the moment. But given the surprising wealth of clues Apple management has left behind, maybe some of you can give it a try.
My take: This is good, solid investigative spade work, and it's free! Available here and on Apple News.)